Google Sundar, Microsoft Satya kiss and make up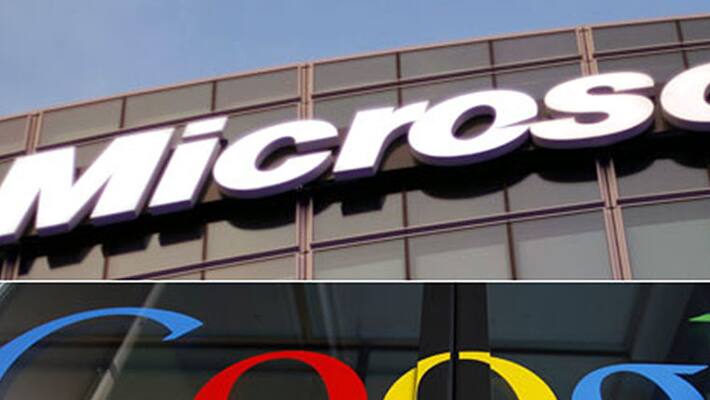 Microsoft and Google embraced each other in peace after ending their decade-old fight, just two days ago. The companies have now decided to resolve their legal issues amicably without involving outside regulators.
Microsoft-backed membership groups, FairSearch and ICOMP, had earlier forced the European Union antitrust watchdogs to issue legal notifications to the search-engine giant, opposing its unfair search practices including the comparison-shopping service.
Google had been accused of hampering rivals and favouring its own services over others in search results. Microsoft had also been at the receiving end of a bunch of antitrust fines imposed on it as part of the long-standing patent feud between the two companies.
Microsoft and Google have amicably signed up a global agreement to stop fighting in order to adapt to their changing interests and business priorities.
"Our companies compete vigorously, but we want to do so on the merits of our products, not in legal proceedings," Bloomberg quoted Google's statement in a report.
"As a result, following our patent agreement, we've now agreed to withdraw regulatory complaints against one another," the company clarified.
Following the global peace agreement, Microsoft CEO Satya Nadella congratulated Sundar Pichai when the latter was named CEO of Google.
In pursuit of their mutual business interests, Microsoft and Google are now working together to incorporate the former's Typescript programming language with latter's Angular JavaScript development framework. The company representatives have now started presenting a speech of their collaborative work at each other's conferences.
As a gesture of appreciation for its budding relationship with Google, Microsoft has agreed to withdraw its regulatory complaints against Google, besides dropping out of ICOMP and FairSearch anti-Google regulatory groups.
Last Updated Mar 31, 2018, 6:55 PM IST