Lenovo all set to redefine smartphones with Moto Z tonight
Moto Z would be a direct competitor of the in-demand Google Pixel
Moto Z is capable of handling a total of 2TB storage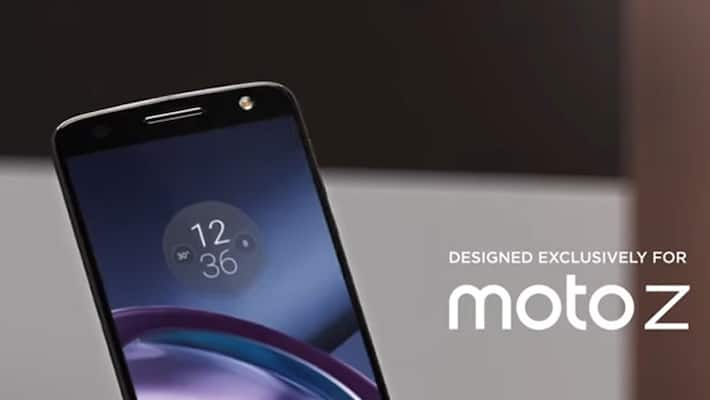 By Aditya Rao
A phone being used just for making calls or sending messages had become history in hardly any time since the first mobile phone was launched, and now Moto Z is going to be another major step to redefine the technology. 
"Made from military aircraft-grade aluminium and stainless steel, the stunning new Moto Z is durable-yet-razor thin - just 5.2mm - and ultra-light with a 5.5" Quad HD AMOLED display," said an official Motorola blog.
The phone would be a direct competitor of the in-demand Google Pixel, which has promised unlimited storage, as Moto Z is capable of handling a total of 2TB storage. The new Motorola phone is expected to affect the sales of iPhone 7 and Google Pixel in this Diwali festive season by being in the price range of ₹40,000.
Moto Z Play is expected to be priced at ₹24,999, and the Moto Z may be sold at a price of ₹39,999.
Unlike the Google Pixel, iPhone 7 or the phone in controversy—Samsung Galaxy Note 7—the Moto Z is an absolute value for money device. 
With the device, the Moto Mods namely, a JBL Soundboost speaker (priced at ₹ 6,999 will be available at ₹ 5,999), Incipio offGRID battery pack (priced at ₹ 5,999 will be available for ₹ 4,999), Insta-share projector (priced at ₹ 19,999 will be available for ₹ 15,999) and a good-looking Hasselblad True Zoom camera module (priced at ₹ 19,999 will be available for ₹14,999).

 
Well, with such steal-price offers a tag of ₹40,000 on the device doesn't look costly at all.
Moto Z has a high-resolution 13MP camera with optical image stabilisation and laser autofocus rare camera and a 5MP front camera includes a wide-angle lens. With an extra flash on the front, everybody in the groupie looks their best—even in low light, said the Motorola blog.
If the phone also stands on the claims of being water resistant, it is going to be the best device to buy in its range. And the major USP of the phone could be a 30-hour battery backup.
The Phone's battery is as powerful as it gets the power up to eight hours in 15 minutes due to a special TurboPower charger that comes with the phone. 
Well, that's all we Indians look for, a fast charging and a long lasting battery.  
Given the number of features, the launch of Moto Z, tonight, may outcast the other over-priced phones launched by Google, Apple and Samsung recently.
Last Updated Sep 14, 2021, 12:25 PM IST