iPhone 15 series: Here's why you should prefer buying AppleCare+ & how much will it cost
AppleCare+ is the ideal insurance plan for iPhone 15 buyers who can get multiple benefits and save them the high repair cost. AppleCare+ also means that you get service for the repair or replacement of any part but only through the authorised technicians approved by Apple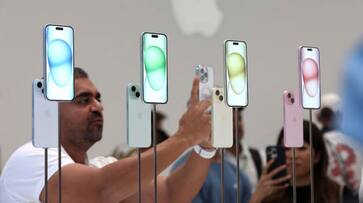 The price of this year's new iPhone 15 series in India starts at Rs 79,900, but if you want to acquire the highly-liked iPhone 15 Pro or 15 Pro Max, your budget will soar to far over Rs 1.3 lakh and Rs 1.6 lakh, respectively. You might claim that any damage to the iPhone may be both heartbreaking and financially ruinous at these high pricing. 
There have been rumours that Apple changed the iPhone 15 series' design to make repairs less expensive, although such rumours may only apply to the Apple ecosystem. Even said, if you have butterfingers but still want to purchase the newest and most expensive iPhone, we advise spending the additional money on AppleCare+ for better protection against such accidents.
Insurance is essential when purchasing a car or a bicycle. But when we talk about phones, that doesn't enter the picture. However, insurance, which is what AppleCare offers to customers, won't be the worst idea if you are paying Rs 1.5 lakh for an iPhone. Apple provides an additional two years of warranty protection on top of the standard one-year coverage for a small fee. Additionally, the business offers insurance for accidental iPhone damage. Therefore, make sure the iPhone is protected by AppleCare the next time you drop it.
This year, the cost of AppleCare+ has decreased in India for all iPhone models, giving you one more incentive to seek insurance for your device. The cost of AppleCare+ for owners of the most recent iPhone 15 Pro or 15 Pro Max is Rs 20,900, but you also receive some extra perks. Apple will charge you Rs 17,900 if you own an iPhone 14 Plus or 15 Plus for AppleCare+ protection. Similar to this, AppleCare+ protection costs Rs 14,900 if you use an iPhone 13, 14, or 15.
The majority of you may believe that paying between Rs 14,000 and Rs 20,000 to insure an iPhone is expensive, yet Apple offers the following perks to consumers that make it worthwhile:
With AppleCare+, Apple will provide iPhone owners priority access and put them in touch with specialists through phone or chat.
The firm offers same-day service in all of the world's major cities.
The iPhone's scheduled delivery service allows you to arrange for pickup and delivery of the device.
Take your iPhone to the Apple Store to have it fixed.
With AppleCare+, you may also receive service for any part repair or replacement, but only from authorised Apple-approved experts. When your iPhone's battery health falls below 80%, the plan with the iPhone battery is applicable. 
 
Last Updated Sep 20, 2023, 11:16 AM IST