Apple releases iOS 17: Here's a step-by-step guide to download latest software update
Apple has finally released iOS 17 for compatible iPhones and users can now start installing the new software update on their iPhones. Here's a brief guide about how to do it.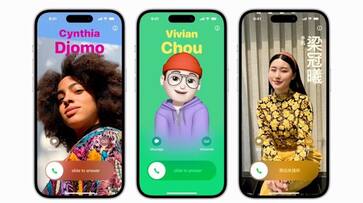 Apple has officially released the stable public version of iOS 17 for compatible iPhones, and users can now start the process of downloading this software update onto their  devices.
At Apple's keynote address at WWDC 2023, iOS 17 was revealed. The aesthetics haven't changed, but Apple has improved upon iOS 16 and added a number of new quality-of-life features, including StandBy, which lets you use your iPhone as a sort of smart display when it's placed horizontally while charging, as well as some features that are specifically geared towards India, like the bilingual Siri and the improved dual SIM experience.
Also Read | iOS 17 to roll out today: At what time will it release in India? Check eligible devices, features & more
Here's how you can download iOS 17: 
Go to Settings > General > Software Update on your iPhone.
Wait for the page to refresh.
A new 'Upgrade to iOS 17' window ought should appear. To download and install, click.
Accept the terms and conditions, and provide the required permissions.
Once the request has been completed, wait for the update to begin downloading.
You may see a progress bar showing how much time is left as it is downloading.
Also Read | Here's why you will not be able to use iPhone 14 cover for iPhone 15
A few important conditions must be met before you can begin downloading. First, make sure that all of your data is securely backed up, either on your computer or on the cloud. Second, to ensure seamless functioning, make sure your iPhone is charged. While upgrading, it shouldn't lose power; you should have at least a 50% charge.
iPhone 15, iPhone 15 Plus, iPhone 15 Pro, iPhone 15 Pro Max, iPhone 14, iPhone 14 Plus, iPhone 14 Pro, iPhone 14 Pro Max, iPhone 13, iPhone 13 small, iPhone 13 Pro, and iPhone 13 Pro Max are all compatible with iOS17. The series further include iPhone 11, iPhone 11 Pro, iPhone 12, iPhone 12 mini, iPhone 12 Pro, and iPhone 12 Pro Max iPhone XS and iPhone 11 Pro Max iPhone SE from the second generation or after, iPhone XS Max, and iPhone XR.
Also Read | iOS 17 releasing on September 18: Check out list of compatible Apple smartphones
Last Updated Sep 20, 2023, 10:23 AM IST