HBO takes down Game of Thrones torrents, warns pirates
HBO is actively monitoring and forcing the removal of Game of Thrones season 6 torrents as the popular TV show has become one of the most-pirated shows of all time.
In its bid to restrain  the growing piracy of its most cherished content, HBO has initiated legal takedown of torrents carrying pirated versions of the TV show, besides sending copyright infringement warnings to alleged pirates.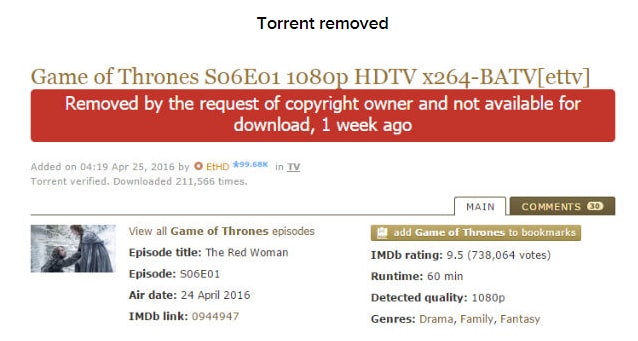 HBO has even sent legal notifications to Internet Service Providers (ISPs) to block pirated content on its network while also advising the subscriber about the legal ways of downloading Game of Thrones through the company's official channels such as HBO GO and HBO NOW apps. Quite strangely, it is the first time HBO had taken such a drastic move to put an end to piracy, unlike in the past when it chose to stay on the fence regarding the issue.
Torrent Freak reports that the company is now actively pursuing all torrent sites carrying hot links to Game of Thrones season 6 and asking them to terminate the download links to its content.
Additionally, HBO is reportedly sending notification letters to ISPs, asking them to educate their subscribers about the legal options to watch their favourite TV show.
Here are the excerpts of the legal notice sent by HBO to an ISP whose domain IP address was used for downloading and sharing pirated version of Game of Thrones via a torrent service:

Although HBO seems to have adopted a preventive measure against piracy, there is no legal obligation for either the subscribers or the service providers to adhere to the stringent policies of the DMCA notification as there is no defined law or control over sharing of pirated content online (except for commercial purpose).
It is confirmed that popular torrent sites like KickassTorrents and Torrentz have already removed links to copyrighted content including the season 6 episodes of Game of Thrones in the wake of HBO's recent takedown requests.
Last Updated Mar 31, 2018, 6:54 PM IST