Facebook just killed 2 million people including Zuckerberg!
A bug declared 2 million people dead on Facebook.
That included Fb's CEO Mark Zuckerberg.
Fb introduced the memorial feature in 2015.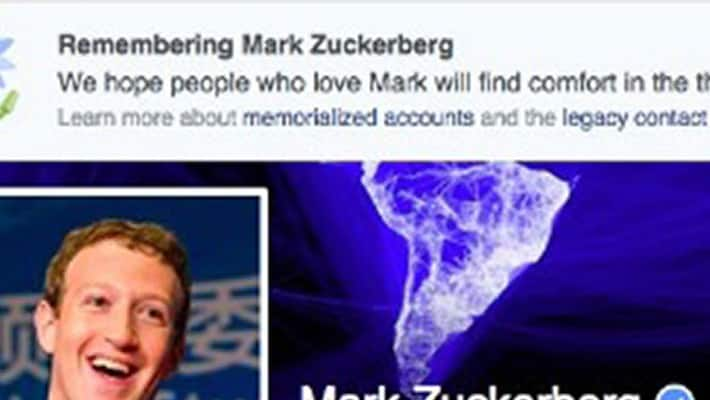 The panic spread the next morning when, 'alive' Facebook users logged into their accounts, were greeted with a eulogy message on the profiles of their friends, family and in many cases on their profiles too.
Facebook acknowledged the error after fixing it – saying that there was a "terrible error."
Zuck dead pic.twitter.com/J8y5LbfQBz

— Steve Kovach (@stevekovach) November 11, 2016
A statement on Mark Zuckerberg's profile read, "We hope people who love Mark will find comfort in the things others share to remember and celebrate his life."
When the social media giant was asked for an explanation, a Facebook spokesperson told The Hacker News, "For a brief period today, a message meant for memorialised profiles was mistakenly posted to other accounts. It was a terrible error that we have now fixed. We are very sorry that this happened and we worked as quickly as possible to fix it."
Facebook introduced the memorial feature in 2015 after numerous cases where families wanted to access the social media accounts of their loved ones, who had passed away.
The users can either opt to have their account completely deleted after their death or turn into a memorial page so that their friends and families can leave messages and share memories on their profile.
Last Updated Mar 31, 2018, 7:00 PM IST