WATCH: Victory lap 41 years in the making as India bags equestrian gold at Asian Games 2023
The Indian team of Anush Agarwalla, Hriday Vipul, Divyakriti and Sudipti Hajela made history on Tuesday as they claimed a historic gold medal in the Team Dressage Equestrian at the Asian Games 2023.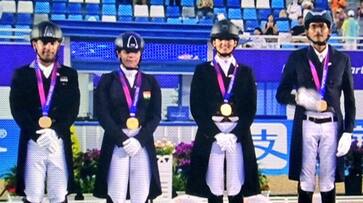 The Indian Equestrian team, comprised of Anush Agarwalla, Hriday Vipul, Divyakriti, and Sudipti Hajela, made history on Tuesday at the Asian Games 2023 by clinching a historic gold medal in the Team Dressage event in Hangzhou, China. This remarkable achievement marks India's first-ever gold medal in this event and their first gold in Asian Games Equestrian in approximately 41 years. The quartet celebrated their sensational victory with a victory lap, which quickly went viral on social media.
After an intense competition lasting nearly 10 hours, featuring athletes from across Asia, it was the Indian Quartet of Agarwalla, Chheda, Divyakriti, and Hajela who delivered a stellar performance when it mattered most.
Anush Agarwalla and his horse ETRO achieved the highest score of 71.088, while Hriday Chheda-Emerald scored 69.941. Divyakriti Singh-Adrenalin Firdod scored 68.176, and Sudipti Hajela-Chinski scored 66.706.
India finished with an impressive total score of 209.205, significantly surpassing second-placed China, which scored 204.882.
Anush Agarwalla's standout performance with a score of 71.088, along with Hriday's 69.941 and Divyakriti's 68.176, ensured that no other team came close to matching their combined score. They outperformed strong contenders like China and Japan, who were considered favorites to win.
This historic achievement marks the first time in the sport's history that India has secured a team gold in the dressage event. The last medal in dressage, a bronze, was won during the 1986 edition of the Asian Games.
India's previous gold in equestrian dates back to the 1982 Asian Games in New Delhi.
Also read: Ramita Jindal's Asian Games triumph: Yoga, tasteless supplements played a role; aims to emulate Abhinav Bindra
Last Updated Sep 26, 2023, 4:37 PM IST