VVS Laxman pens special message for 'genius' GR Viswanath; gifts autobiography '281 and Beyond'
It was a memorable occasion as VVS Laxman spoke about his days in international cricket. Rahul Dravid, Anil Kumble and Javagal Srinath shared anecdotes from their Team India days. The 44-year-old Laxman thanked each and everyone for being there and wrote a special message for GR Viswanath as he gifted him his autobiography. He said "genius" GRV had inspired him while growing up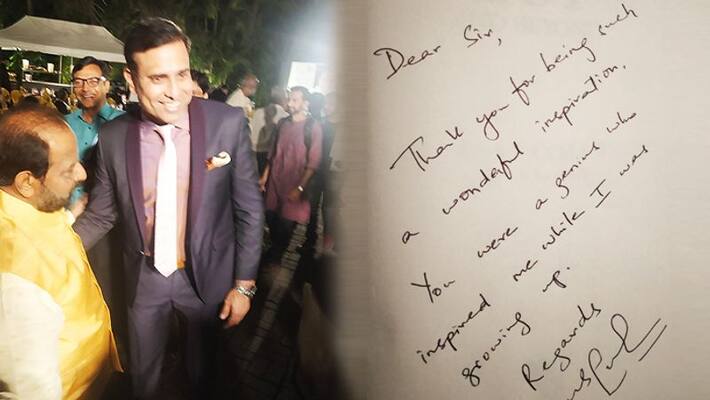 Bengaluru: Former India batsman VVS Laxman has penned a special message to the legendary cricketer GR Viswanath where he called him a "genius".
On Thursday (December 20), Laxman was in Bengaluru to launch his autobiography "281 and Beyond" and the evening saw some of the greats of the game coming together.
Laxman's former teammates Rahul Dravid, Anil Kumble and Javagal Srinath recalled their playing days while Viswanath, EAS Prasanna, Syed Kirmani, Roger Binny and several others were in attendance.
Also read: Laxman, Dravid reminisce epic Kolkata Test
It was a memorable occasion as Laxman spoke about his days in international cricket. Dravid, Kumble and Srinath shared anecdotes from their Team India days.
The 44-year-old Laxman thanked each and everyone for being there and wrote a special message for Viswanath as he gifted him his autobiography. He said "genius" GRV had inspired him while growing up.
"Dear Sir, Thank you for being such a wonderful inspiration. You were a genius who inspired me while I was growing up," Laxman wrote and signed in his book and gifted it to GRV, who played 91 Tests and 25 ODIs.
Both Laxman and GRV, the batting artistes during their time, spoke for a while as the shutterbugs kept clicking.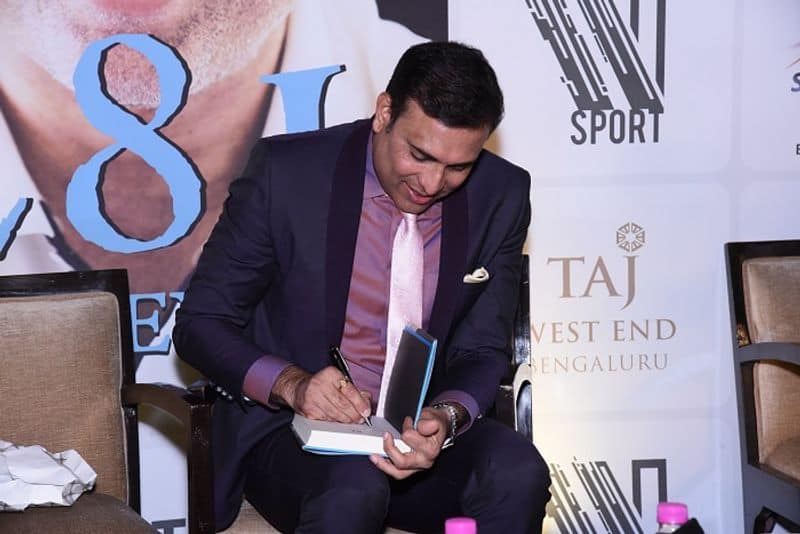 Laxman, who played 134 Tests and 86 ODIs for India, said he was inspired by India winning the World Cup in 1983.
"In 1983, when Kapil paaji picked up the World Cup (at Lord's), I also dreamt that I should play cricket for India, but that was a wildest dream. In 1983, I was just playing in my neighbourhood and I was not even in my school team. But, I thought, one day I should play for the country," he said.
Laxman revealed that it was an elderly person who asked him to write his autobiography.
"After retirement (in 2012), I used to give motivational talks. Two years back, in Goa, for an MNC company, I had a 45-minute talk. After the talk, an elderly person came up to me and said, 'son, whatever you've spoken for 45 minutes, has been very meaningful and very inspiring. And it is not only inspiring me but it will inspire my son and my grandson too'. Then, I was taken aback. He told me, 'you should actually think about writing a book, because, through your story, I am sure, a lot of people can learn something, and practice in their lives'.
"And when I thought about it, my journey has been remarkable, with a lot of highs and lows. Through this book, I will communicate to a youngster how he can realise his dream. Because, playing cricket, for me, was a wildest dream," Laxman said.
Last Updated Dec 24, 2018, 12:00 PM IST