US Open 2023: Shelton triumphs in all-American clash; seals semi-finals berth with win over Tiafoe
In a thrilling U.S. Open quarterfinal clash, Ben Shelton just 20 years old, etched his name in the history books as the youngest American male player to advance to the U.S. Open semifinals since the days of Andy Roddick in 2003.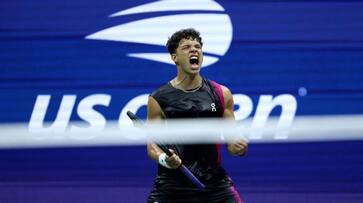 At just 20 years old, Shelton has become the youngest American male player to reach the U.S. Open semifinals since Andy Roddick in 2003. There was a time when a U.S. Open quarterfinal match between two powerful American men was simply regarded as a routine tennis event, rather than a momentous occasion for the sport in the United States. This was the customary scene at the nation's home Grand Slam tournament, considering the United States' rich tennis history, including numerous Davis Cup victories. However, that wasn't the case for nearly two decades. Then, on a Tuesday night, two young men, Frances Tiafoe and Ben Shelton, revived that sense of excitement.
Their paths to this moment were quite distinct—Tiafoe, the son of a maintenance worker at a suburban Maryland tennis center, and Shelton, the son of a former top-60 professional who had transitioned into a highly respected college coach. Over the past year, they developed a unique bond, with the 25-year-old Tiafoe, a seasoned player and crowd favourite, mentoring the 20-year-old Shelton, who didn't even have a passport a year ago, in his inaugural season as a professional.
"Off the court, he's a great guy, but on the court, he's a real challenge," Shelton remarked about Tiafoe over the weekend.
Shelton, the left-handed powerhouse whose serves regularly clocked in at nearly 150 miles per hour, quickly became a topic of conversation during the tournament.
"Ben has been eager to face me at the Open for quite some time," Tiafoe shared while discussing his strategy. "I aimed to make him work hard, forcing him to engage in a demanding match."
On a muggy and windless night at Arthur Ashe Stadium, where the temperature seemed to rise as the match progressed, Tiafoe and Shelton delivered a tense and suspenseful contest that extended into the early hours of Wednesday. The U.S. Open is renowned for its late-night drama, legendary battles that only a select few endure until the conclusion. However, on this Tuesday and into Wednesday, the stadium remained vibrant and energetic, as Shelton and Tiafoe exchanged blows and counterattacks from start to finish.
Ultimately, it was Shelton who emerged victorious, with a final score of 6-2, 3-6, 7-6 (7), 6-2.
Also Read: US Open 2023: Zverev soaking in the moment after setting up QF clash against Alcaraz (WATCH)
Shelton asserted his dominance early in the match, resembling a seasoned pro with a relaxed demeanour, while Tiafoe struggled, conceding two service breaks and effectively aiding Shelton's cause.
However, Tiafoe regained his form, opting for a more strategic approach rather than a power-hitting contest. He patiently constructed points, allowing Shelton to cool down and tighten up, as is common with younger players, to level the match.
The turning point came in a pivotal third-set tiebreaker, a back-and-forth battle that Shelton was on the verge of cruising through before committing two consecutive double faults. Suddenly, Tiafoe, who had relinquished control of the set a few games earlier, found himself on the precipice once again.
Also Read: US Open 2023: Djokovic jokes about haircut being secret weapon after sealing semi-finals berth (WATCH)
Unless an unforeseen injury or other unexpected event occurs, Shelton is poised to experience many more defining moments, like the one that unfolded next. Tiafoe was just a point away from seizing a two-sets-to-one lead.
When Shelton unleashes a serve or a stroke, a distinctive sound emanates from his racket, akin to the power generated by only a select few, including Carlos Alcaraz, the world No. 1, in contemporary tennis. It's not the typical sound of strings meeting a felt ball but rather more reminiscent of a sledgehammer driving a spike into a railroad tie. Tiafoe's serve was impressive, but Shelton's forehand return landed just inches from the corner, leaving Tiafoe unable to respond effectively. Two errors later, Shelton secured the set and, in essence, the match. He broke Tiafoe's serve in the opening game of the fourth set and never looked back.
Last Updated Sep 6, 2023, 11:36 AM IST