Asian Games 2023: Rohan Bopanna and Rutuja Bhosale clinch Gold in mixed doubles Tennis event
The 2023 Asian Games witnessed a gripping and memorable moment in Indian tennis as Rohan Bopanna and Rutuja Bhosale secured the Gold medal in the mixed doubles event.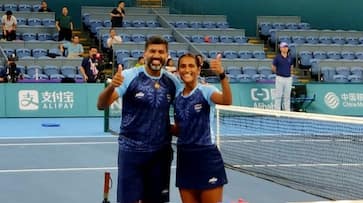 Rohan Bopanna and Rutuja Bhosale scripted a remarkable and thrilling chapter in Indian tennis history by capturing the Gold medal in the mixed doubles event. This dynamic Indian pair displayed exceptional tenacity and resilience as they navigated a challenging final against En-shuo Liang and Tsung-hao Huang from Chinese Taipei, ultimately emerging victorious in a tie-breaker.
The triumph of Rohan Bopanna and Rutuja Bhosale marked a significant milestone for India at the Hangzhou Asian Games, securing the nation's 9th Gold medal in the competition. This achievement added to India's growing medal tally at the event, with the Gold becoming the 35th medal for the Indian contingent.
The journey to this prestigious Gold medal was nothing short of a roller-coaster ride. The Indian duo faced an early setback as they dropped the first set with a score of 2-6. However, they refused to be deterred and mounted a remarkable comeback, clinching the second set and pushing the match into a nail-biting tie-breaker.
In the decisive tie-breaker, Rohan Bopanna and Rutuja Bhosale exhibited exceptional teamwork, determination, and skill, ultimately triumphing with a commanding score of 10-4. This hard-fought victory not only secured the Gold medal but also etched their names in the annals of Asian Games history as Indian icons who rose to the occasion when it mattered most.
The Gold medal win by this formidable Indian pair serves as an inspiration to aspiring tennis players and a source of immense pride for the nation. It showcases the unwavering spirit and never-give-up attitude that defines Indian athletes on the international stage, leaving a lasting legacy in the world of sports.
Last Updated Sep 30, 2023, 1:47 PM IST