Saina's loss denied fans superb Sindhu-Saina clash
Sindhu entered the semi-final of Hong Kong, while Saina bowed out.
The only time when the duo clashed at the international circuit was in 2014.
Sindhu is in form, having won the China Open last week.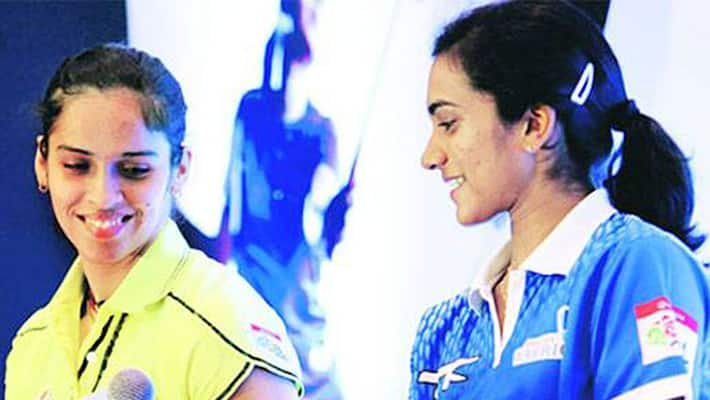 Had the former World No. 1 Saina won her match, she would have met Sindhu in an all Indian battle in the semifinals.
Read more: Sindhu wins maiden Super Series Premier title
The only time Saina and Sindhu clashed at the international circuit was at the 2014 India Grand Prix Gold tournament and it was the senior shuttler who had the last laugh in a two-game match.
Sindhu, who clinched the China Open last week, staved off a stiff challenge from Xiaoyu Liang 21-17 21-23 21-18 in a quarterfinal match that lasted an hour and 19 minutes at the Hong Kong Coliseum.
Fifth-seeded Saina, meanwhile, failed to cross the hurdle as she was stunned by unseeded local shuttler Cheung Ngan Yi 8-21 21-18 19-21 in a contest that lasted an hour and 11 minutes.
Read more: First round exit in China Open: End of Saina Nehwal?
In the latest BWF rankings, Sindhu has jumped two places, courtesy her China Open win, to grab the ninth spot, while Saina, who is on a comeback trail after recovering from a serious injury, slipped five places to 11th, owing to her first round exit at the same event.
In the Destinational Dubai ranking for the BWF Super Series Final, Sindhu (38,490) is ahead of Saina (38,080) by a few points.
Hence, when the rankings come out next week, Sindhu is likely to qualify for the prestigious tournament, to be held next month.
Last Updated Mar 31, 2018, 6:51 PM IST