'Perfect 10's': WATCH armless archer Sheetal Devi become 1st Indian woman to win 2 Asian Para Games gold
Teenaged armless archer Sheetal Devi on Friday became the first Indian woman to win two gold medals in a single edition of the Asian Para Games by claiming the top honours in the women's individual compound event in Hangzhou, China.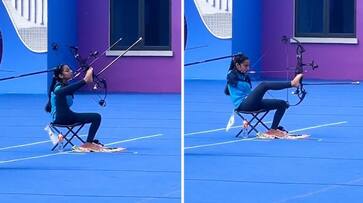 In a historic achievement, Sheetal Devi, a teenage armless archer, on Friday become the first Indian woman to win two gold medals in a single edition of the Asian Para Games. She secured the top position in the women's individual compound event. Sheetal's incredible feat marks a hat-trick of medals for the 16-year-old from Jammu and Kashmir, who holds her bow with her foot. She had previously won a gold in the compound mixed team event and a silver in women's doubles earlier in the week.
Sheetal Devi, who was discovered at a military camp in a remote part of Kishtwar and adopted by the Indian Army during her childhood, made history as the first armless woman to win a Para World Archery Championships medal in July. She secured her latest gold by defeating Singapore's Alim Nur Syahidah with a score of 144-142 in the gold medal match.
Ankur Dhama had earlier become the first Indian to win two gold medals in a single edition of the Asian Para Games. 
WATCH: How Sheetal Devi scored perfect 10's in last two rounds to claim gold medal
India's impressive medal count continued to rise on the penultimate day of competitions, reaching a total of 98 medals. The country's shuttlers contributed significantly with nine medals.
Pramod Bhagat, a reigning Paralympic champion in badminton, secured a gold medal in the single SL3 category. He outplayed his compatriot Nitesh Kumar in the final with a score of 22-20, 21-19. Bhagat praised Nitesh's performance and emphasized the fierce competition.
Suhas Lalinakere Yathiraj, a Tokyo Paralympics silver medallist and an IAS officer, achieved gold in the SL4 final, surpassing his previous bronze from the last edition. In the same event, Sukant Kadam won the bronze.
Thulasmathi Murugesan secured the coveted gold in the women's SU5 final by defeating local shuttler Yang Qiuxia with a score of 21-19, 21-19. Additionally, India's Manisha Ramadass grabbed the bronze medal.
In men's doubles SL3-SLF4, Nitesh Kumar and Tarun Dhillon won the gold, while Bhagat and Sukant teamed up to earn the bronze.
Reigning Paralympic champion Krishna Nagar claimed a silver medal in the men's SH6 final after a hard-fought match against Hong Kong's Chu Man Kai.
In athletics, Raman Sharma achieved supremacy in the men's 1500m T38 event, setting a new Asian and Games record with a time of 4:20.80s. Javelin throwers Pradeep Kumar and Laxit secured silver and bronze medals in the F54 event with personal best efforts.
Discuss thrower Lakshmi also found success, securing the bronze medal with a personal best effort of 22.55m in the women's F37.38 final.
Archer Rakesh Kumar won a silver medal in the men's compound event after a shoot-off against Iran's Alisin Manshaezadeh with a score of 144(10)-144(9).
Last Updated Oct 27, 2023, 2:57 PM IST