Moto GP at Buddh Circuit: 20 races, 82 riders, 41 teams; here's the race schedule for the weekend
MotoGP returns to India at the Buddh International Circuit in Greater Noida from September 22-24. This historic event features 82 riders in 20 races across three categories: MotoGP, Moto3, and Moto2, marking a significant milestone for Indian motorsports.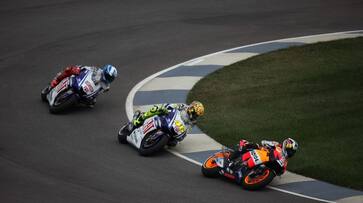 India is gearing up for its first-ever MotoGP motorcycle racing event, set to thrill enthusiasts at the Buddh International Circuit in Greater Noida, Uttar Pradesh, from September 22-24. This marks a historic moment as motorsport returns to India, following the departure of Formula 1 in 2013. 
It is a significant milestone for India's sports industry, coinciding with the country's 75th year of independence. The event will witness 82 riders representing 41 teams competing in a total of 20 races, with this year's event being the 13th race held in India.

MS Dhoni joins Ganesh Chaturthi celebration amid World Cup excitement - Watch
The action-packed event kicks off on Friday with practice sessions, followed by qualification rounds on Saturday. The main race, the centrepiece of the event, is scheduled from 3:30 p.m. to 4:20 p.m. on Sunday.
The competition features three exciting categories: Moto GP, Moto 3, and Moto 2. Leading automobile manufacturers like Honda, Yamaha, Ducati, and others will have their teams competing. In the premier Moto GP category, riders will showcase their skills on bikes equipped with powerful 1000 cc engines. A total of 22 riders, representing 11 teams, will showcase their engines in this class, with these high-performance bikes capable of reaching average speeds well over 300 kmph.
The Moto 3 category introduces nimble bikes with 765 cc engines, featuring 30 riders from 14 teams. These agile machines can achieve impressive average speeds exceeding 250 kmph.

Asian Games 2023: Indian athletes' schedule and key events for September 21
The Moto 2 category offers a balance of power and agility with bikes sporting 250 cc engines. Here, 30 riders from 16 teams will compete, with these bikes boasting speeds ranging from 200 to 220 kmph.
The Buddh International Circuit, spanning 4.96 km in length, will be the stage for the Moto GP category's thrilling showdown. Riders will complete a total of 24 laps during the race, covering approximately 118.97 km in under 50 minutes. This event promises to be a heart-pounding spectacle, celebrating the thrill of motorcycle racing and introducing the world of MotoGP to Indian fans.
Last Updated Sep 22, 2023, 10:25 AM IST