IPL 2018: KKR vs RCB: What can KKR do to win IPL 2018?
Kolkata Knight Riders will play their opener against Royal Challengers Bangalore on April 8.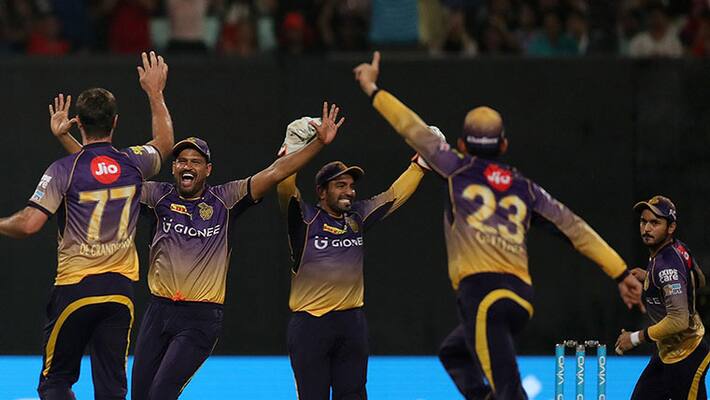 Kolkata Knight Riders will play their opener against Royal Challengers Bangalore on April 8. The last time KKR and RCB met at the Eden Gardens, the latter created a rather forgettable record of scoring the lowest team total of the tournament – 49 all out.
Kolkata Knight Riders had a disappointing auction this time around as they have managed to accumulate a squad, which looks the weakest among all the 8 franchises.
KKR needs to do a lot of things right to win the IPL 2018. KKR have few weakness, which they need to overcome to be able to lift the IPL trophy.
Primarily KKR has these 4 problems, and they need to fix them if they wish to win the IPL 2018.
1) LEADERSHIP:- One of the main reasons for KKR's success in the past was Gautam Gambhir's captaincy. Honestly to me, KKR never looked like a champion team not even in 2012 & 2014 when they won the tournament, but to me, it was the able leadership of Gambhir, which led the team to success.Whichever player came in the team, performed for them, for instance, Bisla in the finale.
Dinesh Karthik is expected to replicate what Gambhir did for KKR.
So first & foremost, Dinesh Karthik needs to impart the confidence in the team and make them believe that they can win if they wish to win IPL 2018.
2) NO MORE INJURIES:- KKR have a squad of just 19 members, so they don't have sufficient backups, and even the reserves they have are not that efficient, and to add to the misery, their key players are recovering from injuries and are injury-prone. KKR just cannot afford more injuries, already an injury to Starc has hit hard.
So, they would hope & pray that all their players remain fit throughout the tournament.
3) OVERDEPENDENCE ON YOUNGSTERS:- KKR, during the auction, bid heavily for youngsters. They have a lot of young lads in their squad, and they will be expecting them to fire and that too on a consistent basis. KKR have youngsters like Nitish Rana, Shubhman Gill, Kamlesh Nagarkoti, Shivam Mavi and few others. At least 2–4 of these youngsters will feature in KKR playing XI. So, KKR is heavily dependent on these youngsters and if KKR wishes to taste success, these players need to perform to the best of their capabilities.
4) BOWLING:- KKR's bowling, especially pace department, is very thin. Their bowling is relatively weaker than their batting.
Their spin department is pretty much sorted with Piyush Chawla, Kuldeep and Narine, though Narine was recently reported for suspected action during the PSL. And he will have that in the back of his mind when he comes to bowl for KKR.
But their real problems lie in the fast bowling department. They have limited and 'not so efficient' options in this department.
VINAY KUMAR:- Vinay Kumar is an experienced player, but he has never been able to replicate his domestic performances in the IPL.He is a quality player but never really set the IPL stage on fire.
Nagarkoti and Mavi:- Both lads were part of India U19 team that won the World Cup. Both are untested commodities in the IPL and much is expected from them.
Mitchell Johnson:- Johnson is not the same deadly bowler, he is near his end and this might be his last IPL. He has been leaking runs off late and especially in the death overs.

Tom Curran:- Curran is the latest inclusion in KKR squad, he replaces Starc. Curran is a quality player.
Kolkata Knight Riders Predicted XI
Chris Lynn, Robin Uthappa, Nitish Rana, Dinesh Karthik (C&WK), Ishank Jaggi, Andre Russell, Sunil Narine, Kuldeep Yadav, Mitchell Johnson, Nagarkoti, Vinay Kumar.
Last Updated Apr 8, 2018, 3:27 PM IST