India fast bowlers 'outstanding', but Australia 'very ordinary', says Venkatesh Prasad
Former paceman Venkatesh Prasad has praised the Indian fast bowling attack comprising Jasprit Bumrah, Mohammed Shami, Ishant Sharma, Bhuvneshwar Kumar and Umesh Yadav. 'The good thing about this whole fast bowling unit is that all the bowlers are quick, they are bowling consistently at 140kmph-plus. They are hitting amazing line and length. Also, the presentation of the seam is outstanding. None of them are bowling with any scrambled seam,' he said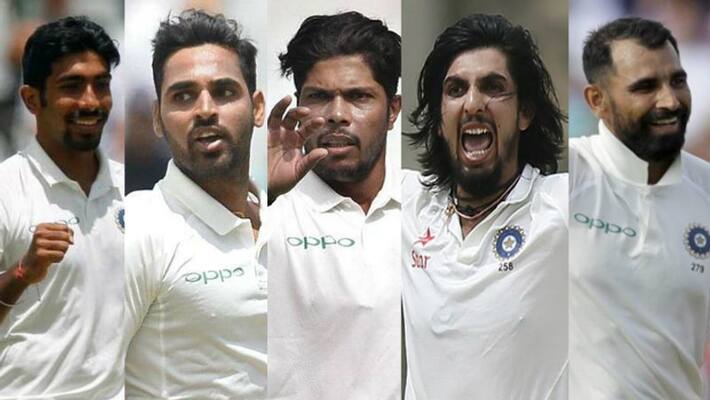 Bengaluru: The 'best-ever' tag for the Indian fast bowling attack should be accorded depending on the quality of the opposition batsmen, according to former paceman Venkatesh Prasad.
While many feel that the current Indian pacers are the country's 'best-ever' as a group, Prasad did not agree with it and presented his reasons for differing.
Also read: Javagal Srinath praises Jasprit Bumrah
"This is, no doubt, a brilliant bowling unit," Prasad told Newsable on Friday (December 28).
He continued, "But, the point is, what is the quality of the opposition we are talking about. That is also something which we need to take into account. Just imagine Mark Waugh, Steve Waugh, Mark Taylor, Michael Clarke, Ricky Ponting, Matthew Hayden, Justin Langer, and Adam Gilchrist coming in at No 7 and changing the course of the game. The current Australian set-up doesn't have even one good batsman and they are also without Steve Smith and David Warner (banned for ball-tampering). It depends on the quality of the opposition. But, I don't want to take the credit away from this bowling unit. Yes, I would definitely agree that this is one of the best attacks I have seen for a long, long time."
Prasad termed the current Australian side as "very ordinary".
"The (Indian) fast bowlers are bowling brilliantly. They have been creating pressure throughout the Test series. It is an outstanding bowling unit that we have got in our team. However, there is not much I can talk about the Australian batting line-up. They don't have the Waughs, Taylors, Clarkes, Pontings, Haydens, Langers. This is a very ordinary Australian side which India is playing against," Prasad made an honest assessment of the Tim Paine-led squad.
The 49-year-old Bengalurean, who played 33 Tests and 161 ODIs, is delighted with the way all five Indian fast bowlers Ishant Sharma, Mohammed Shami, Jasprit Bumrah, Umesh Yadav and Bhuvneshwar Kumar are bowling.
"The good thing about this whole fast bowling unit is that all the bowlers are quick, they are bowling consistently at 140kmph-plus. They are hitting amazing line and length. Also, the presentation of the seam is outstanding. None of them are bowling with any scrambled seam," he said.
When asked about Bumrah's career-best 6/33 at Melbourne Cricket Ground (MCG) in the ongoing third Test, Prasad said he is bowling very well but did not want to single out him alone but insisted on lauding the entire pace attack.
"Jasprit Bumrah might have got a six-wicket haul but it is not about one particular bowler. In the last Test, Mohammed Shami got a six-fer. The whole fast bowling department (including Umesh Yadav and Bhuvneshwar Kumar, who are not playing in Melbourne) has been outstanding. They are quick and hitting the helmets of the Australian batsmen.
"I don't want to single out any one bowler. Bumrah has been bowling very well and so are everybody else. How can I talk about only Bumrah. There are so many positives from this bowling department. Hope they keep themselves fit and they need to keep playing more and more matches, which is how they can get better," he said.
The four-Test series for Border-Gavaskar Trophy is level at 1-1. In the ongoing Melbourne Test, India have a massive 346-run lead after the end of third day's play on Saturday.
Last Updated Dec 28, 2018, 6:39 PM IST