India opens Asian Games 2023 campaign with silver medals in shooting and rowing
The article highlights India's strong start at the Asian Games 2023, where they secured silver medals in shooting and rowing events, although falling short of gold, and their pursuit of a 100-medal target.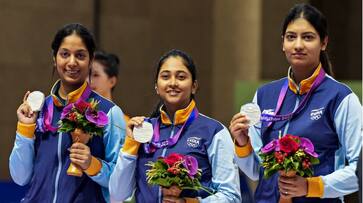 The Indian contingent made a promising start on Sunday at the Asian Games 2023, clinching the nation's first medal. They secured silver medals in both the 10m Air Rifle Team event and Men's Doubles Sculls Rowing. The Indian team has set its sights on surpassing the 100-medal mark in Hangzhou this time, and they wasted no time in adding to their medal tally. However, there was a tinge of disappointment for the athletes as they fell short of capturing elusive gold medals in their respective events.
In the realm of shooting, the trio consisting of Ramita, Mehuli Ghosh, and Ashi Chouksey earned silver in the women's 10m air rifle team event at the end of the qualification round, amassing a total score of 1886. The gold medal was claimed by the hosts, China, with an impressive score of 1896.6, while Mongolia secured the bronze with a score of 1880.
Ramita (631.9) secured the 2nd position, and Mehuli (630.8) came in 5th, both of whom qualified for the individual final. China's Han Jiayu set a new Qualification Asian Record with an astounding score of 634.1, surpassing the previous mark set by her compatriot Zhao Ruozhu in New Delhi in 2019.
In the world of rowing, the duo of Arjun Lal Jat and Arvind Singh clinched silver in the Lightweight Men's Double Sculls, recording a time of 6:28.18s. Once again, China claimed the gold medal with a swift timing of 6:23.16s, while Uzbekistan secured the bronze with a time of 6:33.42s.
The Indian team, which had finished 11th in the Tokyo Olympics, defied expectations to earn their spot on the podium. The Chinese pair of Fan Junjie and Sun Man clinched the top spot with their impressive time of 6:23.16s, securing China's second gold in the Asian Games. Meanwhile, Uzbekistan held onto their position to claim the bronze medal with a time of 6:33.42s.
Throughout the contest, the Indian pair kept the hosts on their toes, relentlessly chasing them. However, with 500m to go, China managed to widen the gap, establishing a lead of 2.73 seconds, while Uzbekistan maintained their grip on third place.
Last Updated Sep 24, 2023, 9:13 AM IST