UCL 2022-23: 'City has to go to Dortmund to secure the first position' - Guardiola after Copenhagen draw
Manchester City travelled to take on FC Copenhagen in the UCL 2022-23 on Tuesday but had to settle for a competitive goalless draw. Meanwhile, Pep Guardiola is determined to seal the top spot in Dortmund.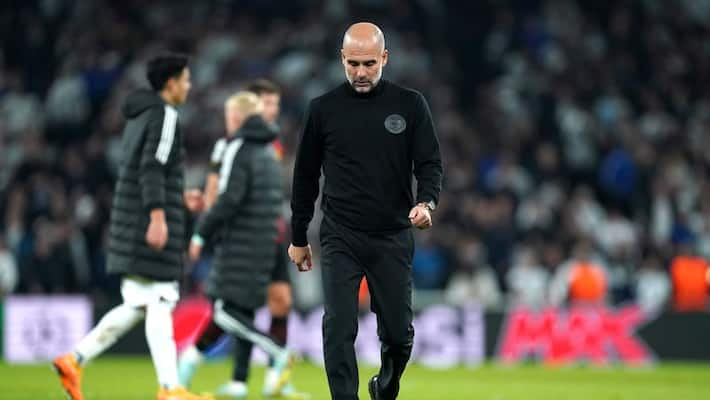 English champion Manchester City seemingly looks unstoppable this season. On Tuesday, when it travelled to face off against FC Copenhagen, it was expected to be an easy ride for the visitors. However, it became an unexpectedly close contest and competitive, as both the hosts held the Cityzens, refraining them from scoring and settling for a competitive goalless draw. Although City remains on top in its group table, it is not sealed yet. In the meantime, club head coach Pep Guardiola is determined to conquer the summit when it travels to take on Borussia Dortmund next week.
"We started well with 11. Then, we had an hour and 10 minutes to hang on. With 10 [men] without the ball, we were clever. We didn't push much. [It's] a good point. We must go to Dortmund to try and secure the first position," Guardiola told BT Sport.
ALSO READ: Griezmann 'happy' after Atletico Madrid completes permanent signing from Barcelona; fans relieved drama over
Guardiola was also critical about the cramped fixtures this month due to the FIFA World Cup starting next month in Qatar. "Many players didn't start today because they were really, really, exhausted, tired and weary and had some niggles. Erling [Haaland] didn't feel excellent after the game against Southampton, Phil [Foden] had some problems, Bernardo [Silva] was so tired yesterday," he told the reporters.
On City's upcoming English Premier League (EPL) trip to Liverpool, Guardiola reckoned, "It's the scale of the fixture when you have to go to Anfield. It's not about how you arrive, good or bad. You have to perform every time. We have four days – we travel right now, tomorrow we have regeneration, one day off, clear our minds, because for one or two weeks we've not had a day off with a game every three days, and after that, we'll prepare the game against Liverpool."
Last Updated Oct 12, 2022, 10:20 AM IST