Six outstanding managers who declined Manchester United: Klopp, Guardiola, Wenger and more
Explore the intriguing stories of six prominent football managers who turned down the opportunity to lead Manchester United, one of the world's most renowned clubs.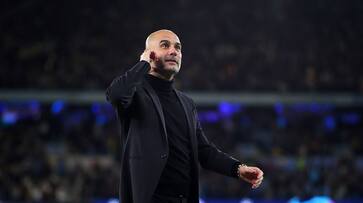 Manchester United, one of the world's premier football clubs, hasn't always had its way, as evidenced by this list of exceptional managers who turned down opportunities to lead the team at Old Trafford. Since Sir Alex Ferguson's retirement in May 2013, Manchester United has seen a revolving door of managers, with David Moyes, Louis van Gaal, Jose Mourinho, and Ole Gunnar Solskjaer all failing to bring consistent success to the most decorated club in English football. We've delved into the archives to identify seven managers who rejected the chance to manage United and explore the reasons behind their decisions.
Jurgen Klopp:
Klopp turned down offers from Manchester United in 2013 and 2015, eventually joining Liverpool, where he transformed the team into one of the world's best. He cited his loyalty to Dortmund as a key reason for rejecting the initial approach and his preference for Liverpool's balance between financial backing and club history.
Pep Guardiola:
Guardiola was reportedly close to taking the United job in 2013 before the club chose David Moyes. This missed opportunity could have reshaped the last decade of football history.
Zinedine Zidane:
The three-time Champions League-winning manager with Real Madrid has been linked to Manchester United, but he has repeatedly distanced himself from the role, not showing a strong interest in English football.
Arsene Wenger:
Before his retirement in 2013, Ferguson had considered stepping down in 2001, and Wenger was approached about replacing him. However, Wenger declined the offer, remaining loyal to Arsenal.
Carlo Ancelotti:
United made moves to recruit Ancelotti in 2013, but he chose to follow through with Real Madrid's interest instead. David Moyes was appointed as United's manager.
Roberto Mancini:
Mancini rejected the chance to manage Manchester United in early 2022, mainly due to his role as Italy's national team manager and the recent success he had achieved with the Italian national team.
Lawrie McMenemy:
In 1981, McMenemy turned down the opportunity to manage Manchester United, a decision that could have had a significant impact on football history. He cited his loyalty, family considerations, and discomfort with the club's atmosphere as reasons for his decision."
Also Read: Lionel Messi reveals his all-time favourite goal: A solo masterpiece in the UEFA Champions League
Last Updated Nov 3, 2023, 12:21 AM IST