Premier League 2023/24: Liverpool rejects £150 million bid for Mohamed Salah; Al-Ittihad pushes for transfer
Liverpool has turned down a substantial transfer offer for Mohamed Salah from Saudi Arabian champions Al-Ittihad, signalling their determination to get the Egyptian star.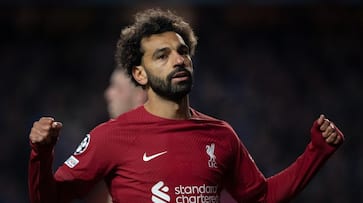 Liverpool has turned down a substantial offer, exceeding £100 million with additional clauses, reaching a potential £150 million, from Saudi Arabian champions Al-Ittihad for Mohamed Salah. Despite recent speculation, Reds manager Jurgen Klopp has played down rumours of Salah's departure, and the player's agent, Ramy Abbas Issa, affirmed his commitment to Liverpool earlier this month. However, the Saudi transfer window remains open for a while, and they are determined to secure Salah's services.
Salah has been heavily linked with a move to the Saudi club in recent weeks, with state-owned broadcaster KSA Sports TV even suggesting that Liverpool's 2-1 victory over Newcastle last Sunday might be Salah's final game for the Reds. An astonishing £130 million offer has been rumoured.
As reported by The Athletic, Liverpool gave the offer no serious consideration during a cordial phone call between the clubs late on Thursday night. While this bid would rank as the second-highest sale in Liverpool's history, behind the £145 million received for Philippe Coutinho from Barcelona in 2018, Liverpool director Mike Gordon conveyed their lack of intention to entertain the offer or engage in negotiations. However, the Saudi club is expected to persist in their pursuit of a deal.
Also Read: Premier League 2023/24: Chelsea completes high-value transfer of Cole Palmer from Manchester City
The Saudi clubs have an advantage in this summer's transfer window, as their window remains open until later in the month, while Europe's leading leagues closed theirs at midnight on September 1. This allows Saudi clubs to sell players without the ability to secure replacements.
Salah became Liverpool's highest-paid player in history after signing a new contract a year ago, earning £350,000 per week. This deal, signed last year, exemplified the mutual respect between the club and the player, who remains one of the world's top attacking talents.
Also Read: Joao Felix eager to secure Barcelona move: Ongoing talks with Atletico Madrid
Last Updated Sep 1, 2023, 6:12 PM IST