Joao Felix eager to secure Barcelona move: Ongoing talks with Atletico Madrid
In a pivotal moment for Barcelona's transfer ambitions, Joao Felix's potential move to Camp Nou takes center stage. As the transfer deadline approaches, negotiations between Barcelona and Atletico Madrid continue, with Felix's desire to join Barcelona.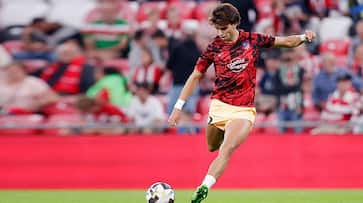 Today holds immense significance for Barcelona, as the club strives not only to secure Joao Cancelo's signing but also that of Joao Felix. The Atletico Madrid forward has emerged as a viable option for Barça, especially with Ansu Fati's impending transfer to Brighton & Hove Albion. Ez Abde's future in Catalonia appears uncertain as well, with Real Betis reportedly willing to offer €10 million for the attacker.
Fabrizio Romano, a renowned Italian transfer expert, provides an update on Barcelona's pursuit of Felix as the transfer deadline day approaches. Romano reveals that negotiations between Barcelona and Atletico Madrid regarding Felix's sale are ongoing. While an agreement between the two clubs has yet to be reached, they are exploring various possibilities to facilitate the forward's transfer to Camp Nou.
Felix himself had expressed his desire to join Barcelona earlier in the summer and has remained steadfast in his wish, even rejecting offers from the Middle East in the process.
Also Read: Matheus Nunes nears Manchester City move in £53 million deal from Wolves
As the transfer market closure looms with just 24 hours remaining, Felix, Barcelona, and Atletico Madrid have entered a crucial stage of negotiations. The success of the transfer hinges on several factors, including a delayed €20 million payment from Libero Football Finance and the sale of Ansu Fati.
Barcelona's president, Joan Laporta, and treasurer, Ferran Olive, have offered a €20.2 million personal guarantee, which could potentially create enough financial leeway for Barcelona to secure Felix. Consequently, the outcome in the hours ahead will be closely watched, especially as Atletico Madrid is reportedly seeking an €8 million loan fee and wants Barcelona to cover Felix's entire salary.
Last Updated Sep 1, 2023, 12:44 PM IST