Premier League 2023/22: Arteta sheds light on Rice's goal and more after thrilling win over Man United
Arsenal's manager, Mikel Arteta, shared his insights and emotions in a post-match press conference following the team's exhilarating 3-1 win against Manchester United. Arteta discussed tactical aspects, the exceptional performance of Declan Rice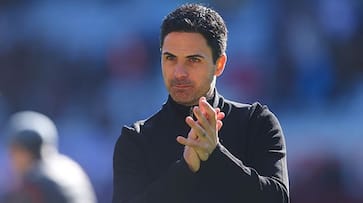 Following Arsenal's thrilling 3-1 win over Manchester United, Mikel Arteta addressed the media and shared his thoughts. In a lively press conference, Arteta touched on various aspects of the game, including tactical elements, individual player performances, and the mental resilience of his team. Arteta praised the team's eagerness, determination, and winning mentality, highlighting the significance of late goals and the need for adaptability in different match situations. He also commended Declan Rice for his standout performance as a holding midfielder and discussed Rice's ability to handle high-pressure moments.
Additionally, Arteta expressed his satisfaction with the crowd's connection to the team, emphasizing the historical rivalry between Arsenal and Manchester United. However, Arteta also mentioned concerns about Thomas Partey's injury, describing it as potentially severe and expecting the player to be sidelined for weeks.
The Arsenal manager's press conference covered a wide range of topics, showcasing his contentment with the team's performance while emphasizing the importance of consistency throughout the season.
Mikel Arteta's Press Conference:
Was that the journey you planned to victory today?
Exactly like that. I told them yesterday that was what was gonna happen. I didn't want to tell the crowd so that there was a bit of emotion there.
How do you feel after that?
Great. We all work so hard to live moments like this. Those moments are going to stick with us. To see the crowd so connected with the team again and celebrate in a big match, with the history of these clashes is something great. So I'm really happy.
It wasn't a perfect performance but what about the finish from Rice?
Yeah. The first goal that we gave away we talked about it, if you lose the ball inside the first two passes after regaining it, you are kaput. We did it again. In the second half, they could have scored – well they did score but it was overturned. For the rest, the win, the eagerness and the determination of the team, the way it shows and that will to win and that mentality to go and go and go. I'm so proud of it.
What's behind all the late goals?
I prefer that Bukayo puts it in the net a lot earlier and the other chances that we had. If it doesn't happen like that it has to happen another way. A team needs different tools to win matches. It needs the capacity to react as well. I think we did that really well in the first half and it made the difference. I think that set the tone and brought some calmness to the team as well.
Also Read: Premier League 2023/24: Erling Haaland's hat-trick leads Manchester City to controversial victory
What can you say about Rice's performance as a whole?
I think a tremendous performance. When you look at how a holding midfielder needs to dominate his area, how he needs to break up play, how he glided the team together when they were stretched a bit. Then he produced a magic moment to win us the game, so, really happy with him.
How much is it about mentality when it comes to finishing a chance like Rice's at the end?
Yeah. We did it yesterday, but yesterday your heart rate was at 80 and now it's at 190. To produce the same level of quality there when the pressure is on in that moment is just unique. You need to have that quality, that sense and that composure. He showed it today and he's there.
How has he fit in the dressing room?
Very natural. He's a great kid. I think he's got a good mixture between being extremely demanding with everybody and himself, having a bit of banter and being around the staff and the boys in a really humble way. So I think he's fitting in brilliantly.
Do you think he can add more goals?
For sure. When you see the technical ability that he has and how he executed in these moments. His range when shooting from accuracy and the power he generates with no space, that's with both legs, he can do it with both feet. He's got the timing as well to arrive in the box. The position will dictate that a lot because it's about how you arrive in the box. But he's got the ability to do that that's for sure.
Also Read: LaLiga 2023/24: Barcelona secures gritty victory over Osasuna with Lewandowski's late penalty
Last Updated Sep 4, 2023, 1:21 PM IST