Liverpool star Luis Diaz's father still missing after parents kidnapped at gunpoint in Colombia
In a shocking development, parents of Liverpool Football Club's Luis Diaz have been abducted by armed individuals in Colombia.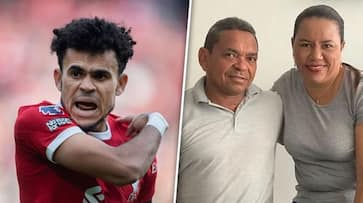 The parents of Liverpool's forward, Luis Diaz, were abducted in Colombia when they were intercepted by armed individuals on motorcycles. Colombia's president, Gustavo Petro, reported that while Diaz's mother has been rescued, his father remains missing. Liverpool Football Club has acknowledged the distressing situation concerning the family of 26-year-old Luis Diaz, emphasising that the player's well-being remains their top priority.
Colombian authorities successfully rescued Diaz's mother, Cilenis Marulanda, in the city of Barrancas, but efforts are ongoing to locate and ensure the safety of his father. The assailants had stopped Diaz's parents while they were driving home, as confirmed by the country's police director.
Simultaneously, Colombia's football federation has issued a statement urging the authorities to intensify their efforts in locating and rescuing Diaz's father.
As Liverpool prepares to face Nottingham Forest in the Premier League, the club expressed its sincere hope for a swift and safe resolution to this situation, with the player's welfare taking precedence.
Also Read: Barcelona to launch inquiry into alleged racial insults aimed at Real Madrid's Vinicius in the El Clasico
Last Updated Oct 29, 2023, 7:53 PM IST