Neymar Jr. reflects on difficult PSG stint with Messi: 'We went through hell'
Brazilian football sensation Neymar Jr. shared insights into the challenging period he and Lionel Messi endured during their time at Paris Saint-Germain (PSG). Both stars, who initially joined PSG from Barcelona with high hopes, faced adversity and criticism from some fans.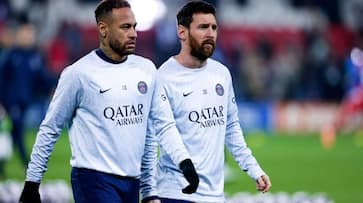 Lionel Messi and Neymar Jr., two of football's brightest stars, recently concluded their tenures at Paris Saint-Germain (PSG), embarking on new journeys with Inter Miami and Al-Hilal, respectively. Both players had initially joined PSG from Barcelona with high hopes of conquering the UEFA Champions League. However, their time in the French capital was marred by adversity. Neymar has now candidly shared the challenges they faced during their PSG stint.
Despite being regarded as one of the greatest footballers globally, Messi often found himself subjected to criticism from some PSG fans. The Argentine even faced jeers from sections of the crowd. Subsequently, Messi decided to seek new horizons in Major League Soccer (MLS).
In an interview with Brazilian outlet Globo, Neymar expressed mixed feelings about Messi's departure from PSG at the end of the 2022-23 season.
"I was thrilled for the year Messi had, but at the same time, very saddened because he experienced both sides of the coin. He soared to greatness with the Argentina national team, winning everything in recent years, but with Paris, he endured a challenging period. We both went through tough times; we were there not for nothing, but to give our best, become champions, and make history. That's why we reunited, to write history together. Unfortunately, we couldn't achieve it," Neymar explained.
Also Read: Lionel Messi returns for World Cup 2026 qualifiers amid speculation over international retirement
Neymar also shed light on the treatment Messi received at PSG, expressing his belief that the World Cup winner was treated unfairly.
"Messi's departure was not fitting for a player of his stature, for everything he represents and contributes. Those who know him are aware that he is a dedicated and passionate individual. When he loses, he is upset. In my opinion, he was treated unjustly. Nevertheless, I am overjoyed that he claimed the World Cup title. In this case, football was just, and Messi deserved to conclude his career on this high note," Neymar added.
Also Read: Euro 2024: Cristiano Ronaldo thrilled to be back home; motivated and focused for Portugal's campaign
Last Updated Sep 6, 2023, 5:48 PM IST