Lionel Messi returns for World Cup 2026 qualifiers amid speculation over international retirement
Lionel Messi, the football legend, is back in action as the 2026 World Cup qualifiers kick off, representing the Argentina national team after an eventful year that saw him lead his country to World Cup glory and make a significant career move to Inter Miami.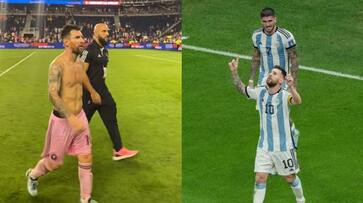 Nine months ago, Messi capped off his illustrious career by leading Argentina to World Cup glory in Qatar, solidifying his status as the greatest player of his generation. Following an impressive debut season in Major League Soccer, Lionel Messi is back in international action with Argentina as South America's arduous journey to secure a spot in the 2026 World Cup begins this Thursday. Nine months ago, Messi achieved the pinnacle of his career by guiding Argentina to World Cup victory in Qatar, further cementing his legacy as one of the greatest footballers in history. Since that unforgettable night in Doha, the 36-year-old maestro has experienced a period of significant change.
After a tumultuous departure from Paris Saint-Germain, Messi was courted by Saudi Arabia but ultimately decided to embark on a new chapter with Inter Miami. This move has proven to be an inspired choice, with Messi and his family seamlessly adapting to life in Florida while achieving success on the pitch, guiding Inter to their first silverware and the US Open Cup final.
Inter's coach, Gerard Tata Martino, a former Argentina and Barcelona player, believes that leading Argentina to World Cup glory last year has "freed" Messi from the burden of previous near-misses in major tournaments.
However, as South America's qualifying campaign begins this week, the lingering question is whether Messi will still be a part of the Argentine squad when they aim to defend their title in the 2026 World Cup, co-hosted by the United States, Canada, and Mexico.
Messi appeared to downplay this possibility in remarks made in June, stating that he did not anticipate participating in the 2026 finals. However, in a July interview, he admitted to having no definite plans regarding the timing of his international retirement.
"Even I don't know when. It'll happen when it happens," Messi told Argentine media. "After winning everything, I want to savor the moment and let time dictate when the right moment arrives. Logically, considering my age, one might expect it to be soon, but I can't say for certain."
Also Read: Euro 2024: Cristiano Ronaldo thrilled to be back home; motivated and focused for Portugal's campaign
Argentina's World Cup-winning manager, Lionel Scaloni, is in no hurry to press the issue. Scaloni has expressed that if Messi desires, a place in the 2026 squad will be readily available.
"I believe Messi can make it to the next World Cup," Scaloni remarked in January. "It will depend largely on his own desires and how he feels. The door will always remain open. He is enjoying his time on the field, and it would be a wonderful opportunity for us."
While questions may persist regarding Messi's future, there is less uncertainty about Argentina's prospects for securing World Cup qualification.
With the 2026 tournament expanded to 48 teams, six of the ten teams competing in South American qualifiers, which will conclude in September 2025, will earn automatic berths for the finals. The seventh-placed team will have a chance in a playoff. Considering Argentina's strength, it would take a monumental upset for them to miss out on automatic qualification for the 2026 World Cup.
Messi and Argentina's qualification campaign commences with a home match against Ecuador at the Estadio Monumental in Buenos Aires this Thursday, followed by a clash with Bolivia in La Paz next Tuesday.
Other fixtures on Thursday include Paraguay facing Peru and Colombia hosting Venezuela. On Friday, Uruguay takes on Chile in Montevideo, while five-time World Cup champions Brazil enter the competition against Bolivia in Belem.
Also Read: Explosive! Louis van Gaal claims Qatar World Cup 2022 was fixed for Lionel Messi and Argentina to win
Last Updated Sep 6, 2023, 12:07 PM IST