Euro 2024: Cristiano Ronaldo thrilled to be back home; motivated and focused for Portugal's campaign
Cristiano Ronaldo is back in Portugal as he gears up for the UEFA Euro 2024 qualifiers with the national team.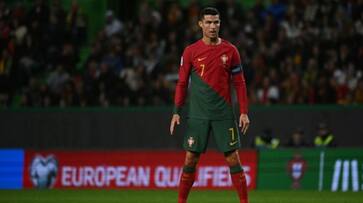 Al-Nassr's forward, Cristiano Ronaldo, expresses his delight at returning to Portugal for his team's upcoming UEFA Euro 2024 qualifiers. The Selecao das Quinas is scheduled to face Slovakia on September 8 and Luxembourg just three days later.
Manager Roberto Martinez has unsurprisingly included the 38-year-old Ronaldo in the Portugal squad for these upcoming games, and he explained that the decision to do so was a straightforward one.
Ronaldo has taken to Instagram to convey his full motivation to contribute to his team's success in the next two qualifying matches. In a translated message from Portuguese, he posted:
"It's a wonderful feeling to be back home! I'm fully motivated and completely focused on confronting these next two games as we pave our way to Euro 2024"
Also Read: MLS 2023: Lionel Messi inspires Inter Miami to a 3-1 victory over Los Angeles FC (Watch)
Ronaldo's performance for his club this season has been nothing short of exceptional. Not only did he score six goals in as many matches during Al-Nassr's triumphant Arab Club Champions Cup campaign, but he has also dazzled in the Saudi Pro League. In just four games, he has amassed an impressive total of six goals and four assists.
Furthermore, in a recent Saudi Pro League clash against Al Hazem, Ronaldo provided a couple of assists, marking the first time in his illustrious career that he has managed assists in four consecutive games.
Also Read: Roy Keane 'headbutted' by fan during Arsenal vs Man United clash; fans recall tunnelgate with Patrick Vieira
Last Updated Sep 5, 2023, 12:56 PM IST