'Thank You Kolkata': Brazilian legend Ronaldinho shares his love with fans after magical moment
Football icon Ronaldinho was warmly greeted by fans chanting his name as he visited Kolkata to inaugurate a football academy named in his honour.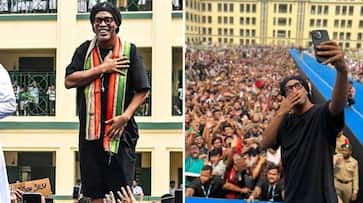 The soccer legend made a special appearance in the city to inaugurate a football academy bearing his name, drawing an enthusiastic crowd. The air resonated with chants of "Ronaldinho, Ronaldinho," creating an electric atmosphere as the revered footballer graciously acknowledged the warm reception with folded hands. Excitement soared as children, youngsters, and fans of all ages eagerly gathered, eager to catch a glimpse of the iconic sportsman and perhaps secure a signed jersey or football.
The venue erupted in sheer exhilaration as Ronaldinho stepped onto the stage, greeting the audience with a warm and heartfelt "Thank you! Muchas Gracias." The enthusiasm and cheers from the crowd added to the festive spirit of the event.
Ronaldinho's presence in the vibrant city of Kolkata was part of a larger initiative orchestrated by Indian sports entrepreneur Shatdru Dutta. The legendary Brazilian player was also extended an invitation to visit Dhaka, further underscoring his influence and global fan following. During his brief stay in Bangladesh, the football maestro is expected to engage in meetings with Jamal Bhuyan, the captain of the Bangladesh football team, and other prominent football officials, fostering connections and inspiring aspiring players.
Adding to the anticipation, it is anticipated that the Brazilian icon will have a courtesy meeting with Prime Minister Sheikh Hasina during his visit, an honor that speaks to his significant impact on the world of football and his role as a global sports ambassador.
Also Read: Barcelona President Joan Laporta charged with bribery in Negreira case: Reports
Last Updated Oct 18, 2023, 7:47 PM IST