Manchester United faces unique printing challenge for Rasmus Højlund's shirts due to danish letter 'ø'
Manchester United encountered an unusual hurdle in printing Rasmus Højlund's football shirts due to the absence of the Danish letter "ø." As excitement surrounded the arrival of this long-term striker, the club grappled with ensuring the correct spelling of Højlund's name.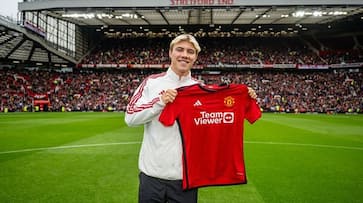 With every new signing, excitement fills the air, and Rasmus Højlund's arrival at Manchester United was no exception. Unlike previous short-term signings, Højlund represented a long-term investment for the club, adding to the anticipation surrounding his arrival. Fans eagerly awaited the opportunity to buy jerseys bearing his name. However, an unexpected obstacle arose—Manchester United couldn't sell Højlund shirts due to the absence of the Danish letter "ø" in their printing.
According to Mike Keegan's report in the Daily Mail, the club struggled to produce jerseys with the correct spelling of Højlund's name, which is pronounced differently from the English version. As of Friday, these shirts were unavailable, but the club rushed to rectify the situation by obtaining the necessary Danish letter. An update on their availability is anticipated by Wednesday.
The supporters also faced uncertainty regarding Højlund's shirt number. After several changes following a busy summer transfer window, the 20-year-old was ultimately assigned the No. 11 shirt, previously worn by Mason Greenwood. Højlund made a promising debut against Arsenal just before the international break and is expected to play a significant role for the team after recovering from injury.
If he fulfills his immense potential, Manchester United may need to ensure they have an ample supply of the letter "ø" to avoid similar challenges in the future.
Also Read: Morocco earthquake: Ronaldo's Marrakech hotel offers shelter to victims; other footballers offer condolences
Last Updated Sep 11, 2023, 1:49 PM IST