Explosive! Louis van Gaal claims Qatar World Cup 2022 was fixed for Lionel Messi and Argentina to win
Former Netherlands head coach Louis van Gaal has sensationally claimed that the Qatar World Cup 2022 was fixed to ensure that Lionel Messi and Argentina would win.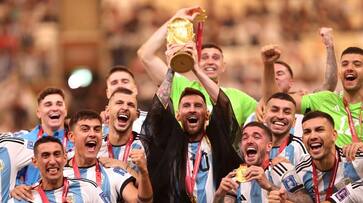 Former Netherlands head coach Louis van Gaal has made a surprising claim, suggesting that the Qatar World Cup 2022 was fixed in favor of Lionel Messi and Argentina's victory. Messi led Argentina to their first World Cup triumph since 1986, securing a penalty shootout win against France in the final. During the final match, Messi scored twice before converting a crucial penalty in the shootout, which Argentina won 4-2.
On their path to the final, Argentina faced the Netherlands in the quarter-finals and emerged victorious in another penalty shootout, after a dramatic and contentious contest that saw 16 yellow cards handed out.
Louis van Gaal, who was the Dutch team's coach during this defeat, expressed his belief that the World Cup tournament was prearranged to ensure a victory for Messi and the Argentine national team, especially considering that this World Cup was likely Messi's last.
Speaking at the Eredivisie awards to Dutch outlet NOS, Van Gaal cautiously stated, "I don't really want to say much about it. When you see how Argentina gets the goals and how we get the goals, and how some Argentina players overstepped the mark and were not punished, then I think it all premeditated game."
"I mean everything I say," he continued. "That Messi should become world champion? I think so, yes."
Van Gaal, who returned from retirement to coach the Dutch side for the third time, led his team out of the group stage before facing Argentina following a 3-1 round-of-16 victory against the United States. The match against Argentina featured Nahuel Molina's early goal and Messi's 73rd-minute penalty, putting Argentina on course for a comfortable win. However, substitute Wout Weghorst's dramatic late brace, including an equalizer in the 11th minute of injury time, forced the game into extra time.
Tempers flared during extra time, leading to a red card for Dutch right-back Denzel Dumfries before the penalty shootout. Unfortunately for the Netherlands, Virgil van Dijk and Steven Berghuis missed the first two penalties, allowing Argentina to advance as 4-3 victors.
Last Updated Sep 5, 2023, 5:45 PM IST