Hockey World Cup 2023: 'Would want India to be in the medal tally' - HI president Dilip Tirkey
Hockey World Cup 2023: India was off to a winning start in the tournament, beating Spain 2-0, while it faces Wales on Sunday. Meanwhile, Hockey India President Dilip Tirkey expects the side to finish on the podium with a medal.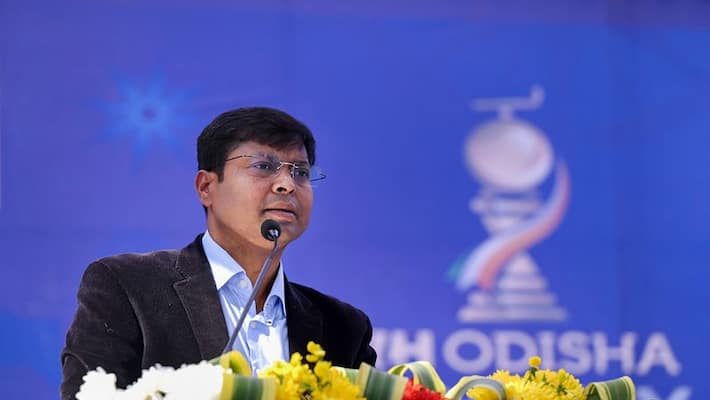 On Sunday, Hockey India (HI) president Dilip Tirkey said India could win an FIH Men's Hockey World Cup medal this time after a hiatus of 48 years, but for that, the home side needs to make use of penalty corners. India has yet to win an HWC medal since winning gold in the 1975 edition. Still, Tirkey, one of the finest defenders of his time and former captain, said that the hosts under Graham Reid could stand on the podium in the ongoing mega-event at home.
"We have fielded the Indian team to win a medal this time. We would want India to be in the medal tally. They are currently playing well. But modern hockey has changed a lot. Penalty corners have become very important. When the penalty corner conversion clicks, most of the time, the team wins. We have very good drag-flickers, and I hope they connect in the tournament and win a medal for India," Tirkey told PTI in an interview.
ALSO READ: Hockey World Cup 2023 - Birsa Munda International Hockey Stadium comes up with special provisions for disabled
"[Captain] Harmanpreet Singh has been doing very well for the country as a drag-flicker though he was not at his best against Spain. So, we are hoping India does well in penalty corners," said Tirkey, the most-capped Indian player (412 matches). Asked if India can beat the likes of defending champions Belgium and world number one Australia, he said, "The team fought against Australia very well in the [five-match] series. They competed very well. Belgium is also one of the best sides in the world. But India is now in a position to fight against any team worldwide on a particular day."
Tirkey, a three-time Olympian, also said that the Hockey India League (HIL) would be revived, and the national federation is trying to restart it by the end of this year. "Restarting HIL is on the main agenda of Hockey. We are trying to restart it by the end of this year. We are going to find an agency to hold the league on a long-term sustainable basis and also the franchises," he said.
ALSO READ: FIH confirms Birsa Munda Stadium world's largest all-seater hockey arena; lauds it as 'work of art'
Tirkey also said that the HWC in Bhubaneswar and Rourkela would set the benchmark for future host countries of the marque tournament. "When Kalinga stadium hosted the 2018 World Cup final, I thought it was the best stadium. But, when I came here and saw myself, and after speaking to coaches and players, it [Birsa Munda stadium] is magnificent. I think there is no better stadium [than this] in the world," Tirkey said.
"Of course, if a better stadium than this comes up, that will be good for hockey. With this world's largest stadium hosting the World Cup and the Kalinga Stadium, no doubt this World Cup will set the benchmark for future editions," he continued. Tirkey, born at Saunamara village in Sundargarh district of Odisha, said after the World Cup, the Birsa Munda stadium can host training camps for the national and domestic teams championships, besides Pro League matches in March.
ALSO READ: Hockey World Cup 2023 - India awaits England test after Spain success
"There will be Pro League matches here in March. There will be domestic championships and Asian Games, and Olympics preparation for the national teams. The Indian women's team has qualified for the Pro League [after winning the FIH Nation's Cup], and we can have exposure tournaments here," sounded Tirkey.
Asked how much the game has changed in the country since his playing days, Tirkey recollected a time when he was forced to travel to Kolkata and Delhi to play on astroturf surfaces. "In 1989-90, I would go to Kolkata and then to Delhi to play on astroturf. Now, only in Odisha are there 35 astroturf surfaces. All 17 blocks of Sundergarh will have astroturf surfaces. So, a lot of things have changed. I thank the Odisha government for this," he spoke.
ALSO READ: Hockey World Cup 2023: 'India did practice of playing with ten men' - Graham Reid after trumping Spain 2-0
"Even my village of birth now has synthetic sand turf. Earlier, the village did not even have a proper hockey ground. Now small kids in our village can learn hockey through proper coaching. So much has changed now." concluded Tirkey.
(With inputs from PTI)
Last Updated Jan 15, 2023, 5:34 PM IST