Belgium's Michelangelo Amendola wins MRF Challenge in Chennai
Michelangelo Amendola, Yuven Sundaramoorthy and Arjun Balu emerged triumphant at the MRF Challenge races in Chennai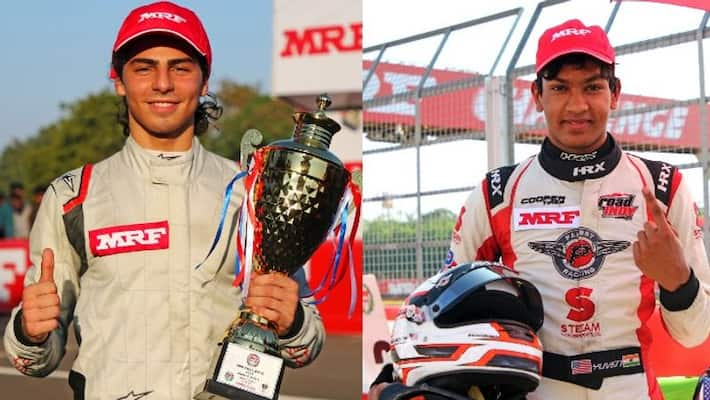 Chennai: Belgium's Michelangelo Amendola (pictured, left) did not win any of the three races run on Sunday (February 16), but picked up sufficient points from two third-place finishes and a sixth, to emerge the new champion in the FIA-approved MRF Challenge which concluded at the MMRT in Chennai.
Earlier, the 16-year old Indian-American Yuven Sundaramoorthy (pictured, right), with family roots in Madurai, gave the crowd plenty to cheer about by winning one race while British teenager Louis Foster and Australia's Dylan Young took the honours in the other two races of the day.
Also read: Amendola takes pole position
A third place finish in Race 5 ensured the 18-year Amendola the title in his third attempt as he opened up an unassailable 34-point lead over his nearest rival Young, going into the last race of the day. Amendola finished with 247 points, including five wins over three rounds, to Young's 223 (3 wins) while Britain's Joshua Mason (176) was placed third in the championship.
Meanwhile, Race Concepts drivers, Arjun Balu from Coimbatore and Bengaluru's Rithvik Thomas notched a double each in the Indian Touring Cars and the Super Stock categories, respectively, of the MRF MMSC fmsci Indian National Car Racing Championship (Round 1).
The day began with Foster capitalising on a Turn-2 incident on Lap-1 that led to a brief Safety Car period, moving from third to first. Foster then hung on to finish ahead of Sundaramoorthy with Amendola in third place. Young's championship hopes virtually ended when he lost two spots to come in sixth.
In the next race, Sundaramoorthy, starting on pole on the reverse grid, was off to a good start and though he lost a bit going into Turn 10, he managed to hold off Jordanian Manaf Hijjawi for his second win of the season with Young trailing home in third place.
Young, starting from reverse grid pole, also won the day's last race untroubled, comfortably nursing his early lead to chalk up his third win of the season.
The results
MRF Challenge (all 15 laps unless mentioned) – Race 4: 1. Yuven Sundaramoorthy (USA) (22mins, 53.075secs); 2. Manaf Hijjawi (Jordan) (22:54.066); 3. Dylan Young (Australia) (23:03.255). Fastest Lap: Sundaramoorthy (01:30.323). Race-5: 1. Louis Foster (UK) (25:38.368); 2. Sundaramoorthy (25:41.064); 3. Michelangelo Amendola (Belgium) (25:45.004). Fastest Lap: Foster (01:31.053). Race-6 (14 laps): 1. Young (21:33.558); 2. Valdemar Eriksen (Denmark) (21:34.874); 3. Amendola (21:36.464). Fastest Lap: Sundaramoorthy (01:31.080). Final Championship standings (top 3): 1. Amendola (247 points); 2. Young (223); 3. Joshua Mason (GBR, 176).
National Championship (12 laps) – Indian Touring Cars (Race 2): 1. Arjun Balu (Race Concepts) (23:12.264); 2. Keith D'Souza (FB Motorsports) (23:28.371); 3. Sunil Ranjith (Race Concepts) (+1 lap).
Super Stock (Race 2): 1. Rithvik Thomas (Race Concepts) (24:13.207); 2. Raghul Rangasamy (Performance Racing) (24:20.261); 3. Alisha Abdullah (Race Concepts) (24:51.419).
Support races – MRF F1600 (Race 2, 10 laps): 1. Vishnu Prasad (Chennai) (20:17.408); 2. Raghul Rangasamy (Mamallapuram) (20:18.087); 3. Karthik Tharani (Chennai) (20:19.272). Race-3: 1. Sohil Shah (Bengaluru) (16:35.718); 2. Raghul Rangasamy (16:42.174); 3. Vishnu Prasad (16:42.437).
Volkswagen Ameo Super Race (Race 2, 12 laps): 1. Anmol Singh Sahil (Ghaziabad) (23:19.588); 2. Anindith Reddy (Hyderabad) (23:22.637); 3. Dhruv Mohite (Kolhapur) (23:23.267).
Last Updated Feb 17, 2020, 12:05 PM IST