MRF Challenge: 18-year-old Michelangelo Amendola takes pole position
The 18-year old Michelangelo Amendola, in his third MRF Challenge season, though felt that he could have gone even quicker, but was happy with the pole position which he secured with a timing of one minute, 30.856 seconds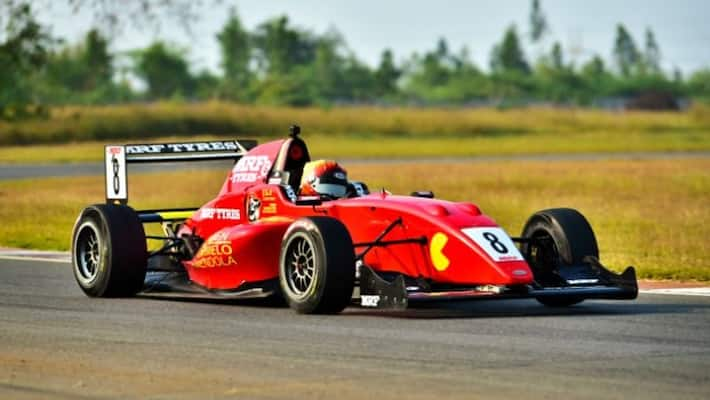 Chennai: Belgium's Michelangelo Amendola (pictured), the championship leader, picked up two crucial points by qualifying for pole position as the third and final round of the MRF Challenge got underway at the MMRT in Chennai today (February 14). He saved his best for the last lap of the session when he posted his quickest timing.
The 18-year old Amendola, in his third MRF Challenge season, though felt that he could have gone even quicker, but was happy with the pole position which he secured with a timing of one minute, 30.856 seconds.
Close behind him was Jordanian Manaf Hijjawi (01:31.128) while British teenager Joshua Mason was third quickest in 01:31.154. Behind the trio was Aussie veteran Dylan Young, who is second in the championship, trailing Amendola by 16 points, qualified fourth in 01:31.245.
Just one second covered the top seven, a clear indication of the closeness of the competition going into this weekend's six races.
"It wasn't the best qualifying session I had. But it was a long duration session (30 minutes), so we had the pace. Anyway, we got the pole position and that is two more points. But we still have a long way to go with three races tomorrow and three more on Sunday.
"There is still some work to be done on the car, we can be quicker, but we are halfway there. I did the Free Practice sessions on old tyres and also the first part of the qualifying. After switching to new tyres, I went quicker and took pole position on my last flying lap of the session," said Amendola.
Earlier, last year's first runner-up Arjun Balu from Coimbatore, driving the Race Concepts-prepared Honda City Vtec, was in a league of his own while taking pole position in the Indian Touring Cars class of the MRF MMSC fmsci Indian National Car Racing Championship (Round-1), clocking one minute, 49.894 seconds which was a considerable improvement on his last season's best of 1:50.9.
Such was the veteran's pace that he was over four seconds quicker than the next best in the ITC class, Goa's Keith D'Souza (FB Motorsports) who piloted the Volkswagen Vento (01.54.001), while another Coimbatore veteran, the ageless octogenarian D Vidyaprakash of Prime Racing (01:54.849) in an Esteem, was third fastest.
"I am absolutely ecstatic, though my car is still a work in progress. We were looking for improvement, but did not expect this (sub-1:50) to happen so quickly. Anyway, I am happy that we went quicker than last year when my best was a 1:50," said Balu.
The results (Qualifying)
MRF F2000: 1. Michelangelo Amendola (Belgium) (01min, 30.856secs); 2. Mannaf Hijjawi (Jordan) (01:31.128); 3. Joshua Mason (GBR) (01:31.154).
National Championship: Indian Touring Cars: 1. Arjun Balu (Race Concepts) (01:49.894); 2. Keith D'Souza (FB Motorsports) (01:54.001); 3. D Vidyaprakash (Prime Racing) (01:54.849).
Super Stock: 1. A Balaprasath (Race Concepts) (01:59.220); 2. Rithvik Thomas (Race Concepts) (01:59.962); 3. Raghul Rangasamy (Performance Racing) (02:00.338).
Support race: Volkswagen Ameo Super Race: 1. Saurav Bandyopadhyay (Thane) (01:54.222); 2. Anindith Reddy (Hyderabad) (01:54.536); 3. Avik Anwar (01:54.817).
Last Updated Feb 14, 2020, 5:49 PM IST