Yash, Darshan in trouble for supporting Sumalatha in Mandya Lok Sabha poll?
Will supporting Sumalatha in Mandya cause trouble to Sandalwood actors Yash, Darshan and others? A complaint has been filed by Jaya Karnataka against the actors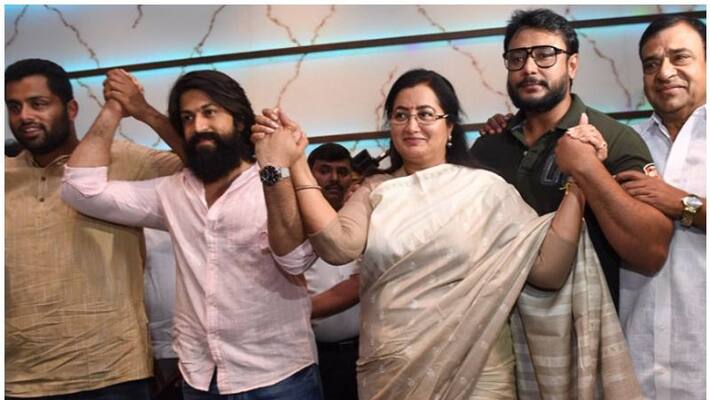 Bengaluru: Rocking Star Yash, Challenging Star Darshan, Doddanna, Rockline Venkatesh from the Sandalwood have openly extended support to Mandya Lok Sabha independent candidate Sumalatha. They have promised to attend her campaigns too. But this might land these Sandalwood stars in trouble.
Jaya Karnataka and Karnataka Rakshana Vedike have filed a case with the state election commission against actors taking part in election campaigns.
Darshan, Yash, Doddanna and producer Rockline Venkatesh are seeking votes for Sumalatha among the public. All their movies must be banned till the Lok Sabha elections are over, Jaya Karnataka state president R Chandrappa has written to the election commission.
If anyone takes part in the election campaign, they are bound by the model code of conduct decided by the election commission. The code of conduct is in effect since the election dates were announced.
Now, there is a demand that the films of these actors must be banned.
Meanwhile, KR Pet MLA Narayana Gowda has warned actors against campaigning for Sumalatha. He threatened them with I-T raids if they continue to support her.
However, Sudeep had just wished Sumalatha good luck through a tweet and was not seen during her campaign. He has played safe so far and has not extended his support to Sumalatha's opponent Nikhil Kumaraswamy too.
Last Updated Mar 20, 2019, 7:52 PM IST