Shocking: BBMP survey shows 1,355 killer manholes in Bengaluru
A survey by Bruhat Bengaluru Mahanagara Palike's (BBMP) road infrastructure department has shown that 1,355 killer manholes are left unattended by Bangalore Water Supply and Sewage Board (BWSSB). Most of these badly maintained manholes are in arterial and sub-arterial roads in BBMP limits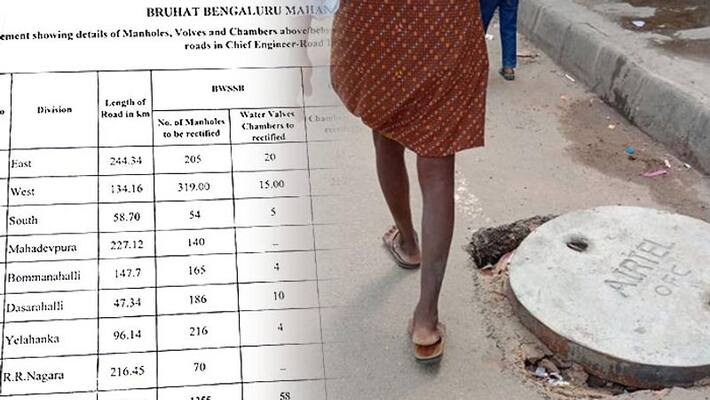 Bengaluru: A survey by Bruhat Bengaluru Mahanagara Palike's (BBMP) road infrastructure department has made a shocking revelation. According to it, on Bengaluru's roads, there are 1,355 manholes that can prove fatal to motorists and also pedestrians.
According to the chief engineer, road infrastructure, S Somashekhar, apart from such dangerous manholes that have either their lids broken, damaged and popping out of levelled roads, there are 58 water valve chambers from Bangalore Water Supply Sewage Board (BWSSB), 904 optic fibre cable chambers by private operators, 42 chambers belonging to Bangalore Electricity Supply Company (BESCOM) and 14 grating chambers belonging to BBMP.
Most these dangerous manholes and chambers are in arterial and sub-arterial roads in BBMP limits which covers 1,400 kilometre of road length.
"There dangerous manholes and chambers by one or the other civic agencies can prove costly to motorists and notices have been issued to get them fixed at the earliest," said Somashekar.
Time and again the activists have highlighted the issues pertaining to road infrastructures like unscientific road humps, dangerous manholes, craters and others, but the concerned authorities look like they are not bothered.
To highlight the damaged manholes lid popping out from the roads, artist Badal Nanjundaswamy has used his skills by painting it to look like a biscuit to attract the attention of the authorities.
Last Updated Feb 16, 2019, 11:17 AM IST