Sandalwood I-T raid continues; are big budgets reason enough?
Recently, KGF became the first Kannada movie to cross 100 crore mark and is said to have collected Rs 150 crore.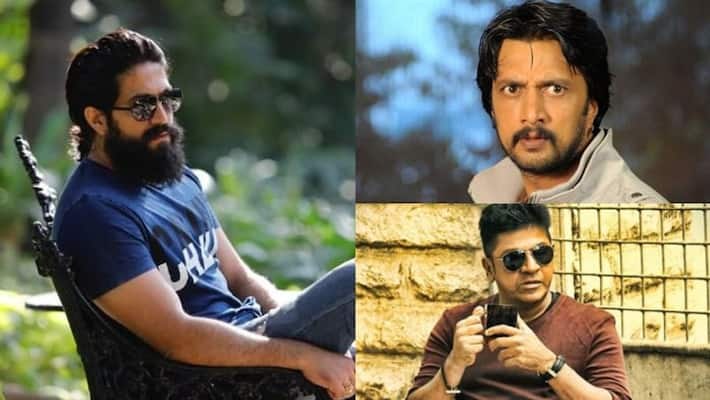 Bengaluru: The houses of Sandalwood stars Sudeep, Yash, Puneeth Rajkumar, Shivarajkumar, producers Rockline Venkatesh and Vijay Kiragandur were raided by the Income Tax officers in Bengaluru yesterday and the saga continued today as well.
This is the first such I-T raid on Sandalwood stars. It is said that a new trend of producing big budget movies in Kannada is the main reason behind the I-T raid.
Off late, Kannada films such The Villain, KGF and Natasarvabhouma (yet to be released) were made with a much higher budget than earlier movies in the Kannada film industry.
Recently, KGF became the first Kannada movie to cross the 100-crore mark in revenue. The movie is reported to have collected Rs 150 crore.
KGF film was made with a budget of Rs 80 crore - the highest budget for a Sandalwood movie thus far. The Villain starring Sudeep and Shivarajkumar film was made at a budget of Rs 45 crore. The overall collection is said to be Rs 40 crore. Though the budget of Puneeth Rajkumar starrer Natasarvabhouma is not exactly known, it is said that close to Rs 100 crore has been spent on the making of the movie.
Until recently, the maximum budget of Kannada movies did not exceed Rs 30 crore. The sudden surge in the budget and reports of blockbuster hits has no doubt caught the eye of the I-T department, suggest media reports.
However, Prashanth Sambargi, who is a businessman, movie producer and distributor, has a different line of reasoning. According to Sambaragi, the main reason behind the I-T raid is a tip-off from the GST vigilance team. Sambargi's line of reasoning is as follows
• Bengaluru multiplex contributes 25 % of revenues for south Indian movie producers.
• Bengaluru multiplex contributes 15 % of revenues to Hindi movie producers.
• But GST revenue from Bengaluru region on entertainment was the lowest.
• All UN organized distributors of Karnataka, who distribute Tamil, Telugu, Malayalam and Hindi films have allegedly evaded the GST bill and legal agreement for film distribution in Karnataka.
• UFO, CUBE movie content distributors GST data and multiplex GST data and single screen GST data dint not sync up.
• Basic professional tax was not paid by any film actors or any film technicians in Karnataka.
• Film heroes have not declared actual remuneration received.
• Two top heroes have got one villa and one flat from a builder in lieu of partial remuneration which was found in a builder GST raid.
• None of the film heroes, heroines, musicians or technicians have submitted the professional service bill with GST tax included.
Both theories hold enough water and suggest that the correlation between the spike in movie collection and decline in tax revenue to the government is good enough reason for Sandalwood to swelter under the scanner of the I-T department
Raids were also conducted on Yash's wife Radhika's residence, Geetha Shivarajkumar's properties and the office of the event management company owned by Priya Radhakrishnan, wife of Sudeep.
Investigations are still on and no details are available if the sleuths have found any concrete pending liability that will prove problematic to the stars.
Last Updated Jan 4, 2019, 6:45 PM IST