Kumaraswamy's advice to farmers: Suicide not solution to mounting debt
Karnataka chief minister Kumaraswamy will table a bill that is aimed at ending the menace of private moneylenders in the forthcoming Assembly session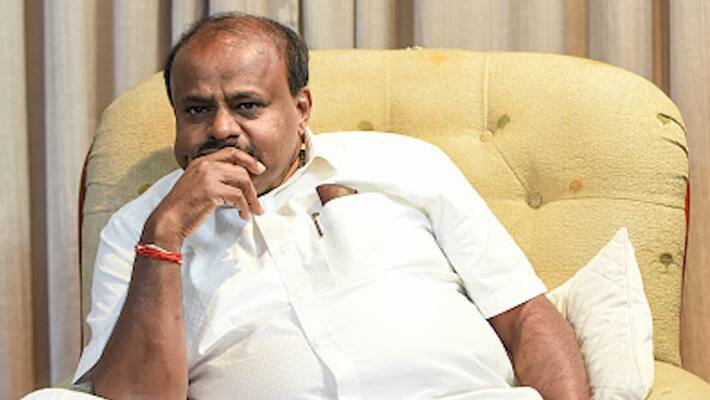 Bengaluru: Karnataka chief minister HD Kumaraswamy on Tuesday met the family members of Suresh, the farmer who committed suicide after leaving behind a video clip. In the video clip, he claimed the burden of loans from moneylenders, which had driven him to the extreme step.
Kumaraswamy met with Suresh's family in Aghalaya village, KR Pete taluk, and consoled them. He also handed over Rs 5 lakh as monetary relief.
The chief minsiter directed the district administration to offer a government job to Suresh's eldest son Chadrashekar and promised to pay for his daughter Suvarna's education. The girl is now pursuing MCom.
In the video clip, Suresh also requested the CM to ensure that all tanks in Santhebachahalli Hobli are filled so that the fellow farmers do not suffer water scarcity as he did.
Reports stated that Suresh owned 2.2 acres of land. Though he drilled seven bore wells, they all went dry, resulting in huge losses. He then took loans from private money lenders and was under huge pressure to clear debts.
Reportedly Kumaraswamy said that a bill will be tabled in the forthcoming Assembly session. The bill will be aimed at ending "menace" of private moneylenders and would be on the lines of the one passed by the Kerala legislative Assembly. Kumaraswamy also advised farmers not to take the extreme step, saying that it is not the solution to mounting debt.
Kumaraswamy reportedly said that he has decided to continue his village stay programme as it will improve the morale of distressed farmers. He further said that the BJP leaders are asking him to conduct a drought tour instead of the village stay programme. He said that he knows what needs to be done to alleviate the plight of farmers.
Last Updated Jun 19, 2019, 3:46 PM IST