Karnataka Assembly Speaker Ramesh Kumar disqualifies 3 rebel MLAs
With three rebel MLAs disqualified, the strength of Karnataka Assembly has fallen to 222. The BJP has 105 members which seven votes short of the magic number 112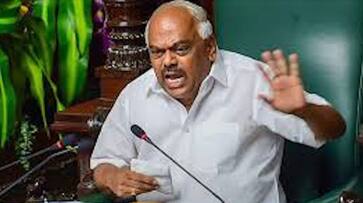 Bengaluru: Karnataka Assembly Speaker KR Ramesh Kumar has disqualified three of the 17 rebel Congress-JD(S) MLAs under the anti-defection law. He kept the rest of the 14 cases pending.
Congress MLAs Ramesh Jarkiholi and Mahesh Kumathahalli and Karnataka Prajakiya Janata Party (KPJP) legislator R Shankar have been disqualified. The Speaker announced his decision at a press conference on Thursday (July 25).
The three disqualified rebel MLAs were reportedly ministerial aspirants in the event of BJP forming the next government. But now they cease to be MLAs with immediate effect and cannot contest elections until 2023.
The MLAs have been disqualified under Schedule 10 of the Constitution for four years, till the tenure of the present Assembly ends.
The matter is now expected to shift to the Supreme Court as the three disqualified MLAs might move the apex court against the Speaker's decision, on Friday, reports said.
With the disqualification of MLAs, the strength of the Assembly has come down to 222. While the magic number is 112, BJP is now short of seven votes with 105 members in the party.
In the press conference, Kumar said, "I am going through the documents regarding other matters. I will have to apply my mind. The whole country is watching my behaviour and the Supreme Court, which is the highest form of judiciary in the world has instilled its faith in me and I have a bigger responsibility to live up to that confidence."
Speaking about the decision on the other 14 rebel MLAs, he said, "In a couple of days, I will come up with a clear answer to all the cases."
Explaining the reason behind disqualifying Shankar, Kumar said that he had merged his KPJP with the Congress and later extended his support to the BJP while submitting his resignation to the Governor as minister. CLP (Congress Legislature Party) leader Siddaramaiah and Karnataka Congress president Dinesh Gundurao had raised a complaint against him with the Speaker.
Regarding the disqualification of Jarkiholi and Kumathahalli, Kumar said that Siddaramaiah and Gundurao had raised complaints against them in February for violating a whip and skipping a legislature party meeting. He also said that there were inconsistencies in their statements after submitting their resignations.
Last Updated Jul 26, 2019, 12:26 PM IST