Congress in soup with unaccounted cash, benami land accusations; Rajeev Chandrasekhar demands answers
I-T sleuths seized Rs 2 crore cash from Narayana Gowda Patil, engineer belonging to the rural development department. Seven-time Congress MP KH Muniyappa has been accused of 400 acres of benami land.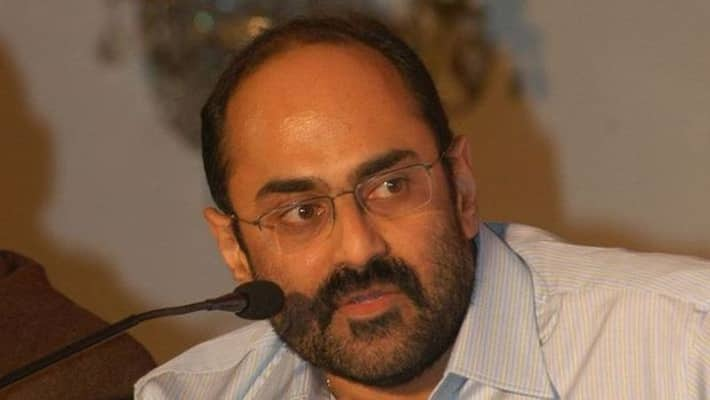 New Delhi: Karnataka Pradesh Congress Committee (KPCC) president Dinesh Gundu Rao and chief minister HD Kumaraswamy have been challenged to come clean on the rampant corruption exposed in Bengaluru. BJP leader and Karnataka Election Management Co-Convenor Rajeev Chandrasekhar has lashed out at the Congress.
"It is clear now as to why the Congress wanted to stay in power in Karnataka. The income tax raids and the seizure of Rs 2 crore cash from an executive engineer points to a confirmation that this coalition between the Congress and the JD(S) is not an alliance bound by common governance or economic agenda, rather it is about how to stay in power, collect money and exploit the state and its people leading up to the election," Chandrasekhar lashed out at a press conference held in New Delhi.
Executive engineer of rural development department, Narayana Gowda Patil's residence in Haveri, Karnataka,  was raided and the I-T officials seized Rs 25 lakh in cash. Hotel Raj Mahal in Bengaluru where he was residing on March 15 was also raided and Rs 2 crore unaccounted cash was seized by the I-T officials.
Meanwhile, reports stated that Congress MP K H Muniyappa, seven-time MP from Kolar Lok Sabha constituency, has allegedly amassed over 400 acres of land in a benami transaction.
"I challenge the KPCC president and chief minister to come clean on the rampant corruption, and the money collection that is underway in Karnataka," Chandrasekhar  warned.
"Media reports claim that documents seized during the raid, point to 10% to 20% commissions being taken by these officials. The 10% to 20% commissions are being taken from each contract that has been awarded by the government of Karnataka. This reaffirms what the Prime Minister during the Assembly elections had said when he had referred to the Congress government as 10%  government," he added.
 "Congress MP KH Muniyappa has not declared his and his family's property details to the election commission and it is in violation of his code of conduct. Today, when there is an environment of zero tolerance for corruption in the country, this is indeed a legitimate issue to be debated and we deserve an answer from Rahul Gandhi," MP Chandrasekhar said.
"This coalition in Karnataka is an example of clear and fitting representation of what a mahagathbandhan government would be, if at all it is formed. It is simply about corruption and looting without any common agenda for development or for the people of Karnataka or India," he said.
On approaching the Election Commission, Chandrasekhar said, "Of course, the party will approach the EC in these two cases. We will definitely point out that the contracts being issued should come under EC's scrutiny."
"I accept that Prime Minister Modi was wrong during the election when he said that Karnataka government is 10% commission government. It is actually a 20% commission government," he  said.
Last Updated Mar 16, 2019, 3:53 PM IST