Bengaluru: International Red Sanders smuggling racket busted by Central Crime Branch; 13 arrested
The gang of smugglers were held while trying to transport consignments of red sanders to various states, after which it would be smuggled abroad. 4000 kg logs worth Rs 3.5 crore were seized by police.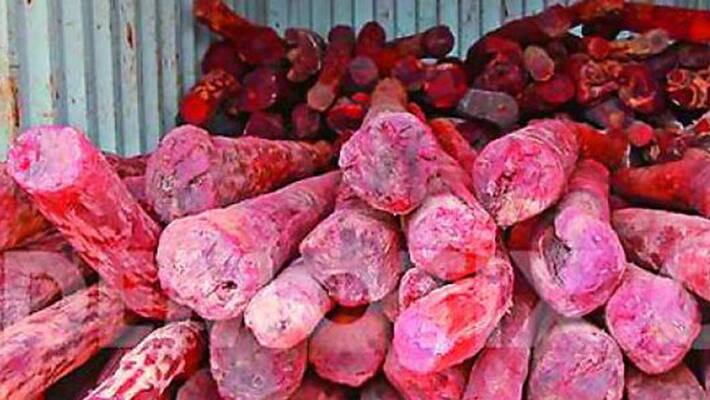 Bengaluru: A 13-member inter-state gang of red sanders smugglers was taken into custody by the Bengaluru police. Police have also seized 4000 kg of wooden logs worth Rs 3.5 crore.
Investigations disclosed it was obtained by the gang members through local smugglers who used to operate in forest areas. The material was then stored at a godown in Bengaluru. The wood would be packed and transported to other cities through a private travels company. This wood would then be shipped to foreign countries like Malaysia, China and Vietnam through air and sea routes. The Central Crime Branch (CCB), busted the international smuggling racket and arrested the 13 gang members.
According to T Suneel Kumar, city Police Commissioner, the arrests were done based on intelligence inputs which were gathered over the last two months by police inspector SK Maltesh.
Abdul Rasheed alias Puttu Bayar (48), is the mastermind behind the gang. He hails from Puttur and was on the run for the past 10 years. The other gang members who were held are: MS Basha (40), Shafi Muhammed (30), Munna alias Mohammed Shabbir (25), Ibrahim (28), Annu alias Mohammed Anwar (23) from Bantwal near Mangaluru, Ali Khan alias Mohammed Rahim (40) from Vijayanagar,  Mubarak (26) from Konanakunte Cross, Noushad Mohammed (27) and Siddique alias Abubakar (40), from Kasaragod, Kerala and  Saleem Khan (50), Zuber Khan (33) and Taheer Khan ( 25) from HAL. According to Alok Kumar, Additional Commissioner of Police (crime), Rasheed used to keep in touch with his associates through instant messaging apps, in order to avoid being detected by the police.
Alok Kumar said that MS Basha was arrested on Friday while trying to load 500 kg of red sanders into a private van. Basha then named Rasheed as the kingpin, who was later arrested in Puttur.
Police reported that Rasheed, the kingpin behind the smugglers gang, had been arrested in 2008 in a fake currency racket. Apparently, Rasheed had claimed that he had connections with the associates of runaway underworld operator, Dawood Ibrahim.
Last Updated May 19, 2019, 11:57 AM IST