Bengaluru: Driver rams bus into wall after brakes fail
On Sunday (May 26) morning, a BMTC bus driver rammed his bus into a wall after the brakes of his bus failed, leaving 3 people injured.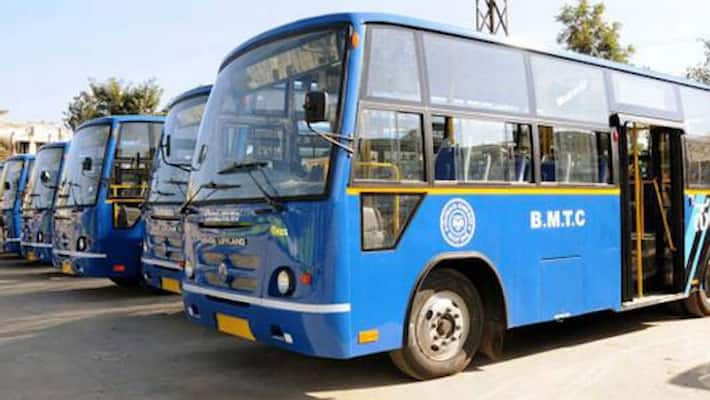 Bengaluru: In order to save the passengers of a bus when the brakes of the bus had failed, the bus driver rammed the bus into a wall.
The incident took place on Sunday (May 26). The bus was heading from Kengeri to Malleswaram through Yeshwantpur. When the brakes failed, the bus was passing through Gopal theatre, Yeshwantpur, at around 8:30am.
When the incident took place, the bus was carrying 45 passengers, out of which, 3 passengers were injured. They were identified as Stella Mary (34), her son Ronald Mithra (12), and daughter Sana Mithra (8), residents of Nandini Layout. Stella was headed to a church situated in Malleswaram.
The trio was injured when the rods of the windows in the bus hit them. They were taken to a nearby hospital to receive treatment.
The Yeshwantpur police have registered a case and probe is on.
A similar incident took place on April 24 in Desh Bandhu Gupta Road in Delhi, where a bus driver rammed into multiple vehicles, due to brake failure.
At least 10 people were injured when the bus rammed into 11 vehicles after an alleged brake failure.
The police had revealed that when the driver tried to apply the brakes, it did not work due to a technical issue. The bus rammed into five cars, five two-wheelers and one pick-up van before coming to a halt. The bus driver and the conductor fled from the location after the accident.
When the accident took place, passengers were still aboard. According to the police, out of the 10 people who sustained injuries, one was reportedly critical.
Locals arrived at the spot and rushed the injured people to nearby hospitals for treatment.
Last Updated May 27, 2019, 1:30 PM IST