Bangalore police commissioner, DG-IGP reward Girinagar inspector for saving woman's life
Director General and Inspector General of Police Neelamani N Raju and Bengaluru City Police Commissioner T Suneel Kumar rewarded the inspector and his team for their bravery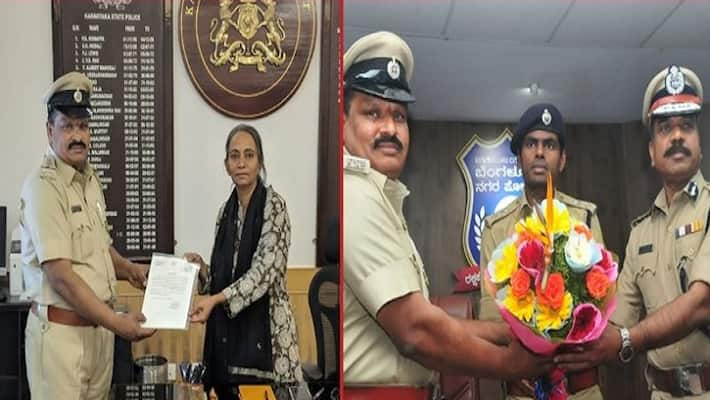 Bengaluru: Director General and Inspector General of Police Neelamani N Raju on Saturday rewarded Girinagar Police Station Inspector CA Siddalingaiah after saving a woman who was stabbed on Thursday. Neelamani N Raju gave him a cash prize of Rs 25,000 and a certificate of commendation on Saturday for Siddalingaiah's bravery.
On Thursday evening, while Siddalingaiah and his team were on patrol as a part of poll preparedness, a biker approached the Inspector and informed him that a woman was bleeding on the other lane.
A 40-year-old Tanuja who works as a teacher in a Primary school in Hosakerehalli and also works as a tutor was stabbed multiple times on her abdomen. As the police officials reached the spot, a crowd had gathered assuming that the victim had succumbed to injuries.
However, the inspector rushed the victim to a private hospital in an autorickshaw after wrapping the wound to prevent further blood loss. Nonetheless, the Inspector also voluntarily donated blood for her surgery.
Following this, Bengaluru City Police Commissioner T Suneel Kumar awarded Rs 50,000 to the entire team, including Siddalingaiah, sub-inspector KL Vinay, ACP Valipasha.
Speaking to reporters, Bengaluru City Police Commissioner T Suneel Kumar said, "I have given another award of Rs 50,000 to the team, including Siddalingaiah and sub-inspector Vinay, who saved the woman's life by quickly reacting to the situation."
According to reports, Tanuja, who was undergoing medical treatment in Victoria Hospital, is now stable.
The accused is identified as Shekhar whose children used to attend Tanuja's tuition classes. The reason behind the murder attempt is yet to be revealed. Presently, the accused Shekhar is in police custody.
Last Updated Mar 17, 2019, 3:08 PM IST