Will Flipkart ever list in India?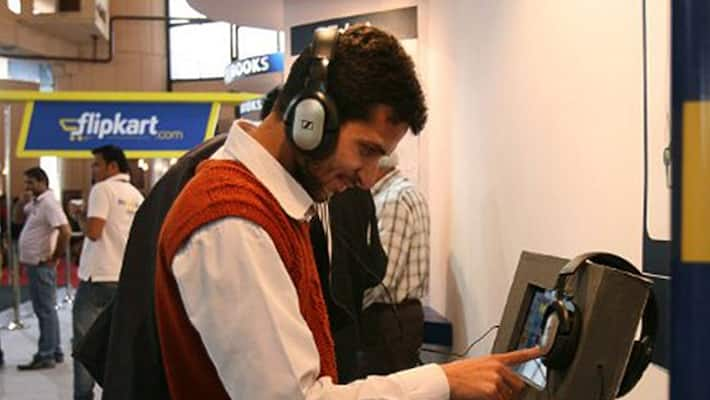 Despite being on a major fund-raising spree which is going to naught as reports suggest that investors are unwilling to invest at its preferred valuations of $15 billion, Flipkart, the multi-billion dollar 'unicorn' of the Indian e-commerce galaxy will be mighty wary of the bulls and bears that rule Indian markets. Experts believe it will not list on Indian bourses until this 'unicorn', this celestial creature achieves profitability. Because unlike global investors with access to limitless coffers, Indian markets are militantly profit-obsessed.
 Flipkart is keen to raise close to $1.5 billion soon as easy-investor cash is fast disappearing  and to ward off predatory competition from Snapdeal and Amazon. In fact some reports had even suggested that it might have considered selling itself to Amazon for $8 billion. Industry experts also aver that the recent management rejig at Flipkart where its chief executive and co-founder, Sachin Bansal, stepped down to be succeeded by its other co-founder Binny Bansal was a move made in preparation of a stock market listing.
In fact according to a Reuters report earlier in January 2016, Sachin Bansal said, "Indian markets are not yet ready for a large Internet company listing but we would absolutely love to list here when the time comes." Industry insiders beg to differ. 
    "Specifically in the case of Flipkart, the listing will only happen in New York. It's NASDAQ money returning to NASDAQ," said Kashyap Deorah, author of a recent tell-all book on the inner-workings of the start up ecosystem in India. "In fact, one of the key reasons why Tiger Global (Flipkart's biggest investor) insisted on re-domiciling Flipkart to Singapore was to facilitate a global IPO...now Flipkart is no longer an Indian company."
Indian markets have been deeply suspicious of these unicorns, not surprising, especially as last week-end, US investment firm T Rowe Price reduced the value of its stake in Flipkart by 15 per cent. This comes right after Flipkart lost $4 billion in one day after Morgan Stanley marked down its stake in the company to $103.97 per share earlier in February. It was 27% below the price of its last fundraising round, yanking its valuation down to $11 billion now, (still rather incredulous for an unprofitable company).
Rakesh Jhunjunwala, the rotund stock market oracle, completely rubbished the lack of profitability of Indian e-commerce firms (read Flipkart) and demanded an explanation about their business model, equating their irrational valuations to the dotcom bust of 2000. Speaking at a retail conference in Mumbai recently, he said that he will invest in Flipkart if its valuation was $100 million.
   Deven Choksi of Deven Choksi Securities took a similar line, saying : 
"After the Justdial fiasco, which got routinely punished by the market, Indian markets will not take kindly to any Indian ecommerce company listing on the Indian markets till they can prove profitability."
  Justdial had a dream listing, but over the last 18 months its market capitalization has collapsed by 70%  because of a decline in its core classifieds business and its inability to diversify into its e-commerce business called Search Plus. So stupendous was Justdial's fall from grace that even superstar Amitabh Bachchan, who owns less than 1% stake in the company, lost a little over Rs 2.2 crore in just six trading sessions.
 Recently, Justdial shares recovered a tad after the company announced a buyback and launched JD Omni, a software technology that helps small businesses sell directly to consumers online. Interestingly, profitable e-commerce firms like Infibeam have had a decent run on the bourses recently, as the Gujarat-based firm's Rs. 450 crore initial public offering (IPO) was subscribed at 1.1 times.Unprofitable for four consecutive financial years ending in FY2015, Infibeam finally reported a profit of Rs 6.2 crore in the first half of FY2016 on revenues of Rs 174 crore.
 Flipkart, on the other hand, was valued at $15 billion when it received $700 million from Tiger Global Management, Qatar Investment Authority and other investors in June last year. That was its fourth round of fund raising in a year. Its valuation shot up roughly five times from $2.5-3 billion in May 2014 despite the fact that it has never been profitable.
Turning the profitability theory on its head are the famous Bansal duo, who head and back Flipkart. They had earlier maintained that profitability is not 'important' as they are not keen to become a small profitable venture. "If one wants to focus on making profits quickly, then e-commerce is not the place for him..." they had said in an interview to Business Standard in July 2013.
Now their line seems to have changed. In November 2015, Binny Bansal told the Times of India that, "Flipkart is hopeful of becoming profitable in the next 2-3 years and expecting to launch its IPO in 2-5 years." In fact a report last week said that Flipkart is now keen to earn a gross profit ahead of the festival season starting in September, and has put in some specific measures in place like capping salary increments at 10%  and expecting category heads to become profitable at a unit level in 6 months.
 Last year Flipkart burnt investor cash to fund massive discounts and then posted a Rs 2000 crore loss despite selling merchandise worth Rs 10,390 crore. Apart from losses, rabid competition from its American nemesis Amazon is also taking a toll on Flipkart. Amazon has quickly cornered 12% of the market, of which 45% is Flipkart's. Traditionally, e-commerce companies have large gestation periods. Investors focus more on the top line, thus the gross merchandise value (GMV) is almost the only yardstick of performance while the companies are not profitable.
Flipkart's valuation in May last was about $15 billion and GMV was $4.5 billion, which is projected to increase to $8 billion, all theoretical math for Indian markets as till it's profitable the Indian punter will never get to play with it. 
Last Updated Mar 31, 2018, 6:46 PM IST