Sajjan Jindal bails out Naveen Jindal, buys power plant for Rs 6,500 crore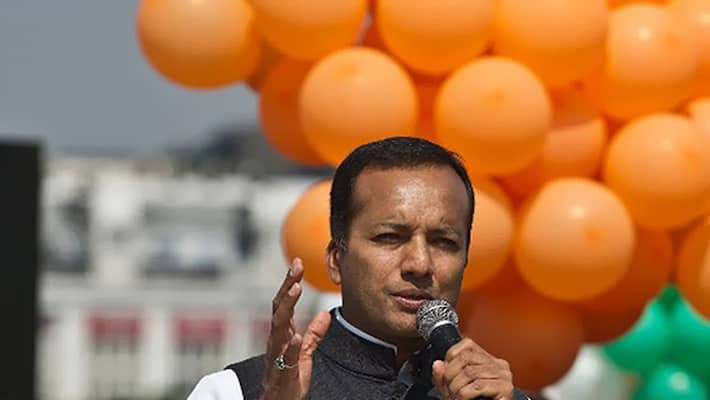 Billionaire Sajjan Jindal's JSW Energy has agreed to buy a 1,000 megawatt power plant from his brother Naveen Jindal's heavily indebted Jindal Steel and Power (JSPL) in a deal valued at up to $976 million ( Rs 6500 crore) , the companies said on Wednesday.Jindal Steel said the deal, to be completed by mid-2018, would help it meet its liabilities while JSW gained a foothold in coal-rich eastern India through the acquisition of the power plant in Chhattisgarh.
The New Delhi-based steel firm majority-owned by Sajjan's younger brother Naveen will get more than Rs 6500 crore ($976.29 million) from Mumbai's JSW if some conditions on coal supply and power purchase agreements are met, JSW said. JSW would also extend Rs 5,000 crore as advance against interest."The adverse operating environment within the power sector in the country is driving distress sales in the sector, and JSW Energy's robust financial health coupled with a strong balance sheet is providing the company an opportunity to acquire quality power assets at reasonable valuations..." JSW said.
While the deal, first reported by Reuters on Tuesday, would help reduce debt at Jindal Steel, it would also be a boon for top lender State Bank of India (SBI) which has been trying to broker an agreement between the companies.Indian banks are saddled with a corporate bad debt mountain of about $121 billion.
Jindal Steel - whose net debt at the end of December was 460 billion rupees, or seven times its current market valuation - had been in talks with lenders including SBI to reschedule repayments due to "cash flow mismatches".The Jindal brothers once competed to buy foreign assets, but Jindal Steel is now struggling after India's top court cancelled its coal mining licences and a weak commodity market hit margins.
Buying the plant would help JSW, which called it an "arm's length" deal supported by independent valuations, in its efforts to nearly triple its power generation capacity to around 12,000 megawatts by early next decade. JSW Energy, which is part of Sajjan Jindal's JSW Group, will form a special purpose undertaking and transfer JSPL's thermal project located in Chhatisgarh, to this new company, for an enterprise value of Rs 6,500 crore. This value is linked to the completion of fuel and power purchase contracts for the power plant, currently in the process of being redrawn following the earlier countrywide cancellation of coal blocks by the central government.
The initial enterprise value of the power plant is estimated by JSW Energy at Rs 4,000 crore, which will be enhanced only after the power plant is assured of continuous fuel supply and of concrete purchase of the power produced, said JSW Energy."The transaction also contemplates payment of an interest bearing advance of Rs 500 crore pursuant to the receipt of approvals from the shareholders of JSW Energy and JSPL and the Competition Commission of India," JSW Energy said in the statement released late Tuesday.
This led to large financial losses and default in payments on loans for most power companies including JSPL and in escalation of bad loans for banks who had lent to such companies. The current transaction between JSW Energy and JSPL is widely seen as a bailout of JSPL by JSW Energy as both companies are promoted by the OP Jindal business family. Sajjan Jindal and JSPL's Naveen Jindal are siblings. JSPL's consolidated debt had totaled Rs 42,534 crore.
"The acquisition would fall within the provisions of related party transaction," said the JSW Energy statement. "…Mr Sajjan Jindal and MR Naveen Jindal, promoter and chairman of JSPL being relatives, the respective promoters of JSW Energy and JSPL have an interest in the entity being acquired. The acquisition price is supported by an independent valuation and hence, is at arms length," the statement added.
The transaction is scheduled to be completed by June 30, 2018. After the acquisition, JSW Energy will have a total power generation capacity of 5,531 megawatts.
Last Updated Mar 31, 2018, 6:52 PM IST