Petrol price cut by ₹1.46, diesel by ₹1.53 per litre
Petrol in Delhi will cost ₹65.93 a litre.
A litre of diesel will cost ₹54.71.
The reduction in petrol price comes after six increases since September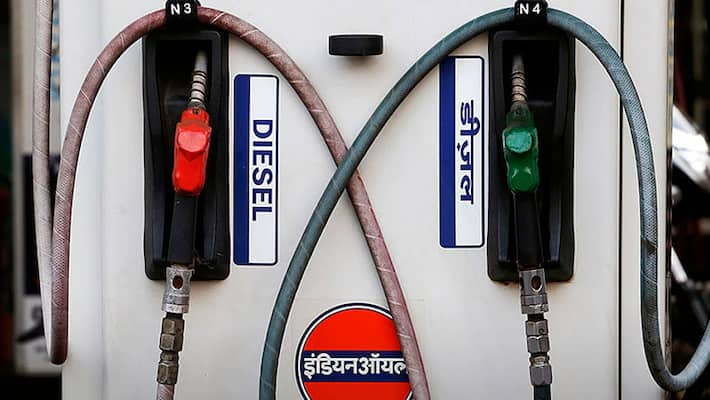 Petrol price was on Tuesday cut by ₹1.46 a litre and diesel by ₹1.53 per litre, reversing the rising trend of the past few weeks.

The reduction in rates announced by Indian Oil Corporation, the nation's biggest fuel retailer, is excluding state levies (VAT) and the actual cut will be higher after
considering them.

Petrol in Delhi will cost ₹65.93 a litre from Tuesday mid-night, ₹1.69 lower than ₹67.62 currently.
 
Similarly, a litre of diesel will cost ₹54.71, ₹1.7 lower than ₹56.41 currently.

The reduction in petrol price comes after six increases since September while in the case of diesel, it reverses three hikes of last month.

In the six hikes, petrol price had gone up by ₹7.53 per litre in just over two months while the three price increases totalled ₹3.90 a litre for diesel.
 
"The current level of international product prices of petrol and diesel and rupee-US dollar exchange rate warrants decrease in selling price of petrol and diesel, the impact of which is being passed on to consumers with this price revision," IOC said in a statement.

IOC said the movement of prices in the international oil market and rupee-dollar exchange rate shall continue to be monitored closely and developing trends of the market will be reflected in future price changes.

Petrol price was last hiked by 89 paise per litre, excluding state levies on November 1. Diesel rate on that day was raised by 86 paise a litre, excluding state levies.
Last Updated Mar 31, 2018, 7:03 PM IST