Oil prices rise as production dips for the first time in 2 years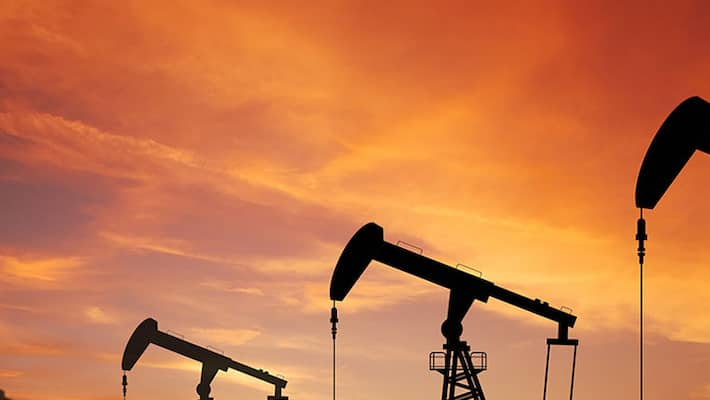 Oil prices jumped over 1 percent on Monday after Goldman Sachs said the market had ended almost two years of oversupply following oil disruptions and flipped to a deficit said a Reuters report. International Brent crude futures were trading at $48.50 per barrel up 67 cents, or 1.4 percent, from their last settlement and U.S. West Texas Intermediate crude futures were up 68 cents, or 1.5 percent, at $46.89 a barrel.
Supply disruptions from Nigeria, Venezuela, the United States and China triggered a U-turn in the oil outlook of Goldman Sachs, which long warned of overflowing storage and another looming crash in prices. "The oil market has gone from nearing storage saturation to being in deficit much earlier than we expected," Goldman said, adding that the market "likely shifted into deficit in May ... driven by both sustained strong demand as well as sharply declining production."
In Nigeria, oil major Exxon Mobil suspended exports from the country's biggest crude stream, Qua Iboe, and other producers have also suffered disruptions following acts of sabotage, cutting the country's output to its lowest in decades at around 1.65 million barrels per day (bpd). In the Americas, major oil exporter Venezuela seemed on the brink of meltdown, triggering fears of default by its national oil company PDVSA, which has to make almost $5 billion in bond payments this year.
Venezuela's oil production has already fallen by at least 188,000 bpd since the start of the year as PDVSA struggles to make the investment needed to keep output steady.In the United States, crude production has fallen to 8.8 million bpd, 8.4 percent below 2015 peaks as the sector suffers a wave of bankruptcies. And in China, output fell 5.6 percent to 4.04 million bpd in April, compared with the same time last year. Countering these disruptions, supply rose from the Organization of the Petroleum Exporting Countries (OPEC) following the lifting of sanctions against Iran which triggered a race for market share between Tehran and OPEC-rivals like Saudi Arabia, Iraq, the United Arab Emirates and Kuwait.
OPEC pumped 32.44 million bpd in April, up 188,000 bpd from March. This is the highest since at least 2008, according to a review. Also preventing steeper price jumps was a recovery in output in Canada following forced closures due to a wildfire as well as bloated crude storages in the United States and also Asia. Morgan Stanley warned that "the inventory buffer may be preventing full price recovery and ... the market is rightly nervous about the sustainability of outages and possible producer response."
Last Updated Mar 31, 2018, 7:06 PM IST