Jaitley now worried about the Indian economy
Finance Minister Arun Jaitley says Indian economic growth is not enough
Warns of slowdown in overall world economy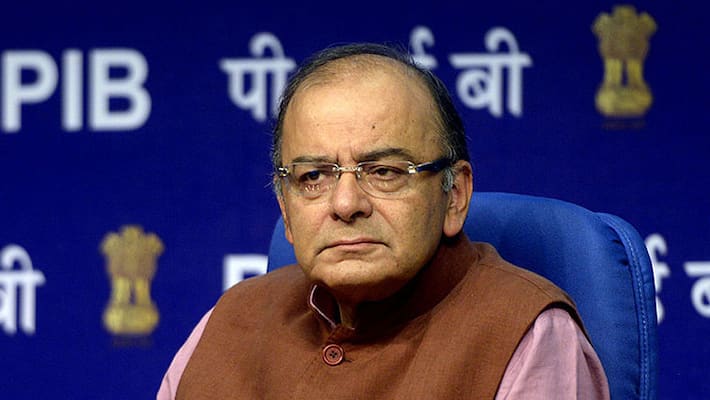 Arun Jaitley has cautioned that by its own yardstick, India's current growth rate is not enough. "India is aspiring to do better in an adverse environment, it is at the world's centre stage more than ever before,"  Finance Minister Arun Jaitley said.
Jaitley, who is leading an Indian delegation to the annual fall meeting of the International Monetary Fund and the World Bank, in Washington said there is a "lot of global buzz" around India.
"More than even before we are at the centre stage. That you would have to admit. But, I would put a caveat. India has become far more aspirational than ever before. So compared to the rest of the world, we are doing much better. Compared to our own yardstick, we feel, this is not enough," Jaitley  said at a news conference.
"We can do still better, which in a sense is not a bad thing to happen. To be restless, to be impatient is a sign of wanting to do better."
"For the rest of the world whereas we aspire to do better in this adverse environment, they consider it extremely impressive. So there is a lot of global buzz around India," he said.
As per the latest forecast by the IMF and the World Bank, India is projected to grow at 7.6% in the next two years, which makes it the world's fastest growing emerging economy.
"I think, with the kind of economic activities and investments that we have planned over the next several years it (growth) is not likely to go down," Jaitley said in response to a question. And it might have an impact only if unforeseen events happen, he said.
"I think with the kind of investments, both domestic and international, that we are getting, a reasonable amount of growth will always be there. If growth returns to the world, then you would probably move up. Structural reforms like GST can only add to that," Jaitley said. Noting that the world is moving slowly, the Finance Minister said nobody seems to be sure how long this situation would continue.
"In India, we have to learn to live in an environment where the world is going to move slowly. And the world is not going to be very supportive of growth. The global environment is not very supportive of growth," he said.
Since India is growing much faster, as compared to the rest of the world, it has become natural recipient of a higher level of FDI, he added. "Good monsoon, pay commission, reasonable growth rate, domestic demand including rural demand has picked up," Jaitley said, adding that structural reforms in India today, in terms of direction and taking decision, are easier than ever before.
Identifying an unsupportive global environment and stagnant investments in some private sectors, Jaitley said that the country can still do better, adding, however, that three public sector banks need to become stronger and get out of the NBA scenario.
"And if the world starts growing faster as it did between 2005 and 2008, then we can expect higher growth rates. But for India to maintain its present level of growth is possible," Jaitley said.
Last Updated Mar 31, 2018, 7:05 PM IST