Infosys to now split its business into 15 units
In its recent results announcement Infosys had trimmed its revenue forecast
This was the second time it did so this fiscal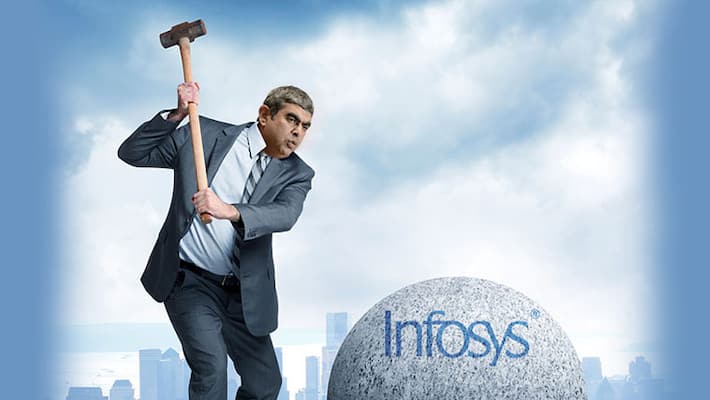 Right after it trimmed its revenue forecast second time in a row which made its share price crash by 4% earlier this week, Infosys in now embarking on an ambitious rejig. According to a report in The Economic Times, this exercise is aimed at making the company agile and sharpen client focus.
The IT services major has now split its four large industry verticals into 15 smaller units. The objective is to give its presidents more time to build CXO­-level relationships and strategy to improve sales, than be bogged down by internal operational matters, said the report.
According to some of the details of the new structure announced by Infosys, 15 smaller industry units, each with $500­$700 million in revenue, will have a separate head, and profit & loss (P&L) responsibilities. 
This comes at a time when Infosys posted a 6.1% rise in consolidated net profit at Rs 3,606 crore for the September quarter and slashed its revenue guidance for the second time this year due to its recent performance and "near-term uncertain business outlook". 

 
The Bengaluru-based firm had reported a net profit of Rs 3,398 crore in the year-ago period.


The consolidated revenue for the quarter was up 10.7% at Rs 17,310 crore, from Rs 15,635 crore in July- September 2015. The figures are as per Indian Accounting Standard (Ind AS). 

 
Revenues are now expected to grow 8-9% in constant currency, translating to 9.2-10.2% in INR terms and 8.2-9.2 % in USD terms. 
 
This is the second time the company has reduced its revenue guidance for the fiscal. In July, Infosys had said it expected revenues to grow 10.5-12% in constant currency terms, lower than the previously estimated 11.5-13.5% for the full year 2016-17. 

 
"While we continue to navigate an uncertain external environment, we remain focused on executing our strategy and increasing momentum of our software plus services model. Considering our performance in the first half of the year and the near-term uncertain business outlook, we are revising our revenue guidance,"  CEO Vishal Sikka said. 
Last Updated Mar 31, 2018, 6:41 PM IST