How currency ban has paralysed gambling, chit fund business in India
Gamblers and chit funds operators are finding it difficult to make business run
Illegal collection hubs like matka dens and casinos facing decreased patronage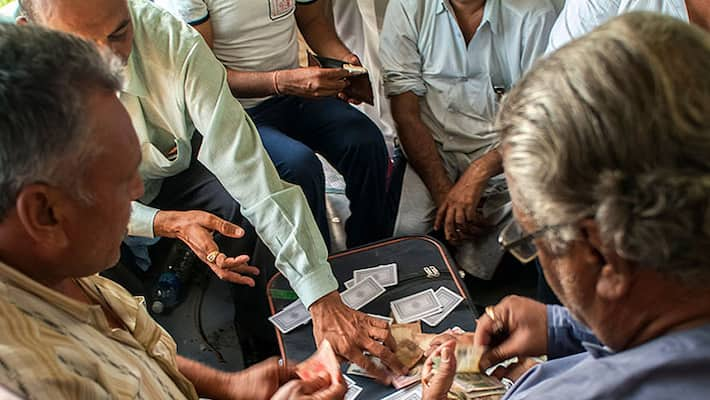 The aim of Prime Minister Narendra Modi was to flush out black money with his sudden demonetisation of the ₹500, ₹1000 notes in the country. Other than businessmen who had been resorting to illegal means of earning and had undocumented wealth lying around, there are other illegal activities which have been at the receiving end – gamblers and illegal chit fund operators.
Gamblers are apprehensive about accepting the old denominations of  ₹500 and ₹1000 and are therefore reluctant while placing bets. If anyone has placed a bet using the old denominations, then they are getting a certain percent of money deducted in their winnings. Matka dens in Mumbai, Gujarat, Goa are all reeling under the ban. Their collections have taken a considerable beating. While some casino operators have stopped accepting notes of ₹500 and ₹1,000 denominations, others are accepting the notes, but up to a specified limit 
In fact, bookies had bet on the England-India Rajkot cricket match and the outcome of the US Elections but the devaluing of the currency on November 8 brought the cash mills to a grinding halt. Billions were affected in circulation due to non possession of valid currency. Bookies and gambling lords have assured their patrons of payment in the future once the matter settles down and some have refused to pay up in the light of the recent developments.
The chit fund business is also a thriving sector in our country, especially in South India. However, while there are legal chit fund businesses there is a whole web of illegal chit fund operators who work under the radar. Many people of the lower income strata opt to invest in chit funds because they most are unable to qualify for loans or even posses a bank account. You will find housewives, clerks, bus drivers and labourers who save money in this manner.
While chit funds are not necessarily a bad investment. It has a developed a bad reputation because it has been misused to scam naive investors. It is this illegal group of chit fund collectors who are now finding themselves in trouble. None of them deposit their cash reserves in the bank and their collections will be in notes of the devalued currency. This move has put a brake on their collections majorly. It is a well known fact that many businessmen, government officials and politicians circulate their black money (received as favours, bribes and gifts) in this manner. Reports across the country have surfaced saying that irate subscribers are demanding refunds from chit fund lords. The operators are unable to deposit this currency in the ban and nor can they get it exchanged.
Corruption, needless to say, is at the base of all this. Undocumented money is what is being lent in the name of funds and now since they have been devalued, people out to make a quick buck through illegal means find themselves running pillar to post to save their deposits. Often public who have subscribed to these illegal fund operators, find that they have been cheated of their hard earned money as the lenders often pack up business or announce they are bust. This had led to many suicides in the country.
This move will end up troubling such businessman and gamblers and maybe we could finally see a dent in the corruption network in our country.
Last Updated Mar 31, 2018, 6:33 PM IST