India to be the fifth largest economy soon, currently India is a $ 2.5 Trillion economy
India will grow from 7.2% to 7.5% soon, says the Finance Minister
Taxation base increased
Govt to substantially increase allocation under national livelihood mission to Rs 5,750 cr in next fiscal
Finance Minister Arun Jaitley presents the Budget for 2018-19 in Parliament on Thursday with revised fiscal deficit target of 3.5% of GDP at Rs 5.95 lakh crore for the current fiscal and 3.3 percent for Financial Year 2018-19. The cap on personal tax has not changed but there is not much difference in the facilities for salaried class. However, as usual the salaries of parliamentarians have increased. Here are the complete details of what this Budget 2018 has to offer for common people from agriculture to health to medical to industry and other sectors of the society.
COSTLY
Cars and motorcycles
Mobile phones
Silver
Gold
Vegetable, fruit juices, including orange and cranberry
Sunglasses
Miscellaneous food preparations other than soya protein
Perfumes and toilet waters
Sunscreen, suntan, manicure, pedicure preparations
Preparations for oral dental hygiene, denture fixative pastes and powders; dental floss
Pre-shave, shaving or after-shave preparations,
Deodorants, bath preparations, depilatories, perfumery
Scent sprays and similar toilet sprays
Truck and Bus radial tyres
Silk Fabrics
Footwear
Coloured gemstones
Diamonds
Imitation jewellery
Smart watches/wearable devices
LCD/ LED TV panels
Furniture
Mattresses
Lamps
Wrist watches, pocket watches, clocks
Tricycles, scooters, pedal cars, wheeled toys, dolls' carriages, dolls, toys, puzzles of all kinds
Video game consoles
Articles and equipment for sports or outdoor games,
swimming pools and paddling pools
Cigarette and other lighters, candles
Kites
Edible/vegetable oils such as olive oil, groundnut oil
CHEAPER
Raw cashew nuts
Solar tempered glass or solar tempered glass used for manufacture solar panels/modules
Raw materials, parts or accessories used in making cochlear implants
Select capital goods and electronics such as ball screws and linear motion guides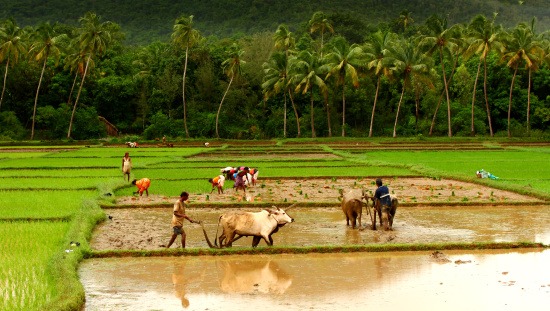 AGRICULTURE
Focus on improving Agriculture facilities, conditions
Direct Benefit Transfer is the biggest in the world
2000 crore infrastructure fund for farm, agriculture
470 APMCs linked to ENAM
Rs 1,400 crore allocation for food processing 
Fisheries, animal husbandry sectors also to get Kisan Credit Cards
Rs 11,000 crore allocation for fisheries and aqua culture
Rs 1,290 crore allotted for bamboo sector
Krishi Yojana allocation doubled
Export of agriculture commodities will be liberalised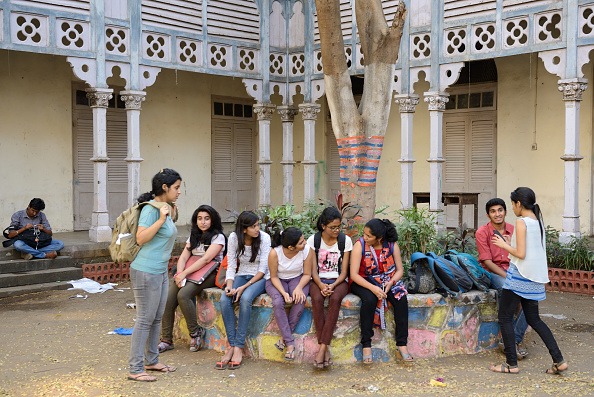 EDUCATION
18 new schools for architecture
Under RTE, lakhs of untrained teachers to be trained to help improve quality of education
24  new medical colleges, at least 1 mediacl college for three constituencies
Scheme for revitalising school infrastructure, with an allocation of Rs 1 lakh crore over four years. RISE - Revitalizing Infrastructure in School Education
PM research fellows: Govt will identify 1000 Btech students each year and provide them means to pursue PHDs in IITs and IISc
Rs 1.35 crore allocation for health, education and social welfare in 2018-19
By 2022, every block with more than 50 per cent ST population and at least 20,000 tribal people will have 'Ekalavya' school on par with Navodaya Vidyalas
No more education cess on imported goods. Will be replaced by social welfare surcharge of 10%
HEALTHCARE
Rs 1,200 crore for health and wellness centres
Free drugs and diagnostic services for all, 10 crore families to be covered
Rs 5 lakh per anum healthcare for 50 crore Indians
1.5 lakh new healthcare centres
Rs 600 crore for TB patients
Senior citizens allowed Rs 50,000 deduction on health insurance premium paid in a year from earlier Rs 30,000
INDUSTRY
Rs 3794 crore for Medium, Small and Micro industries
Rs 3 lakh crore for MUDRA Scheme for 2018-19
Govt to allocate Rs 7,140 crore for textiles sector
All enterprises will be given Aadhaar like unique ID's
Government assures 50% Minimum Support Price (MSP) to farmers, promises to double MSP by 2020
EMPLOYMENT
Incentives for women employees
Government contributing 8.33 % towards EPF 
Paid maternity leaves increased to 26 weeks
EPF women contribution reduced to 8% from 12%
Emoluments for President set at Rs 5 lakh, Rs 4 lakh for Vice President, Rs 3.5 lakh for governors
INFRASTRUCTURE-ENERGY
4 crore homes to get free electricity
51 lakh new houses to be built
1 crore houses under PMAY  
9,000 km National Highways to be completed in 2018-19
Rs 40,000 crore for expansion of Mumbai transport
Rs 17,000 crore for Bengaluru Metro in Karnataka
Airport capacity to be hiked to handle 1 billion trips every year
Regional air connectivity scheme to connect 56 unserved airports
Government will bring out an industry-friendly defence production policy in 2018
5 lakh WiFi hotspots to provide broadband access to 5 cr rural people
Divestment target Rs 80,000 crore for FY 2019
Centre plans to construct two crore more toilets under Swachh Bharat Mission
Surplus power produced by solar-powered generators used by farmers will be bought by state distribution utilities
Rs 14.34 lakh crore to be spent for rural infrastructure
Housing for all by 2022, 1 crore houses to be built under Pradhan Mantri Awas Yojana in rural areas
DOMESTIC
8 crore families to get free LPG connection
HOUSING
Govt to reduce hardships faced in realty deals
No adjustment to be made in case circle rate does not exceed 5 pc of sale consideration
RAILWAYS
1.48 lakh crores allocated to Railways
3,6000 kms under track renewal
Railways capex pegged at Rs 1.48 lakh crore. Last year it was Rs 1.31 lakh crores.
Re-development of 600 major railway stations
All trains will be progressively provided with Wi-Fi, CCTV and other state-of-the-art amenities
Over Rs 1.48 lakh crore to be allocated for railways in next fiscal
Suburban network of 160 km planned for Bengaluru
TOURISM
10 prominent tourist sites to be developed as iconic tourist spots
GOLD/SILVER rates
SILVER RDY Rs 39,300.00 Per KG
GOLD(24-carat) RDY  Rs 30,870 PER 10 Grams
GOLD(22-carat) RDY  Rs 29,290 PER 10 Grams
Govt to formulate a comprehensive gold policy to develop gold as an asset class; gold monetisation scheme to be
revamped
FINANCE/ECONOMY/MONEY
Government will take all measures to curb use of crypto-currencies like bitcoin
Govt will evolve a scheme to assign a Unique ID for companies
Increase in salary for parliamentarians, automatic revise of salaries for MP every 5 years 
Law to regulate salaries for MPs
Additional 90,000 crore collected by the Income Tax
To provide RBI an instrument to deal with excess liquidity, RBI Act and other laws being amended
Number of taxpayers have increase from 6.4 crore to 8.27 crore
Govt makes PAN mandatory for any entity entering into a financial transaction of Rs 2.5 lakh or more
TAX
Tax: Status quo maintained for salaried class
Personal income tax unchanged
Standard deduction increased to Rs 40,000 in medical insurance from Rs 15,000 for salaried class
Long term capital tax to be 10% for amount above Rs 1 lakh
Health and Education cess increased to 4%
Incentives for senior citizens: Exemption on interest income to be increased from Rs 10000 to Rs 50,000. Applies to all fixed deposit scheme
Sensex tanks over 300 pts after FM announces 10 pc tax on some long-term capital gains from equity market
WELFARE/MISCELLANEOUS
Centre earmarks Rs 150 cr to commemorate 150 years of birth of Mahatma Gandhi
Expenditure for 2017-18 pegged at Rs 21.57 lakh crore, as against Rs 21.8 lakh cr previously estimated
Jaitley announces allocation of Rs 56,619 crore for SC welfare and Rs. 39,135 crore for ST welfare
PAN to be used as Unique Entity Number for non-individuals from Apr 1