10 mistakes have been found in the fake notes dispensed from SBI ATM in Delhi
Investigations are on to find out how did the fake notes make their way into the ATM
The fake notes have a PK logo, churan label, serial number 000000 and more such features
Rohit, working as a customer care executive at a Chhattarpur call centre in South Delhi had withdrawn Rs 8000 from the SBI ATM some days ago and had found that all four notes were fake. At least 10 differences were spotted from the original note, said a report in DNA.
The rupee symbol was missing, and it did not even have the governor's signature. Even scrap leaf markings seen in the original note were replaced with a churan label. The biggest blunder was the note had Children's Bank of Indian on it instead of Reserve Bank of India.
So much so, following the complaint, a sub-inspector was sent to the ATM to verify the fact. Even he is said to have found a fake note of Rs 2000 from the machine.
The SBI has sent a team to investigate the matter on how did the fake currency notes make their way into the ATM?
Meanwhile, the Border Security Force had seized fake Rs 2,000 notes amounting to Rs 96,000 along Bangladesh border, recently.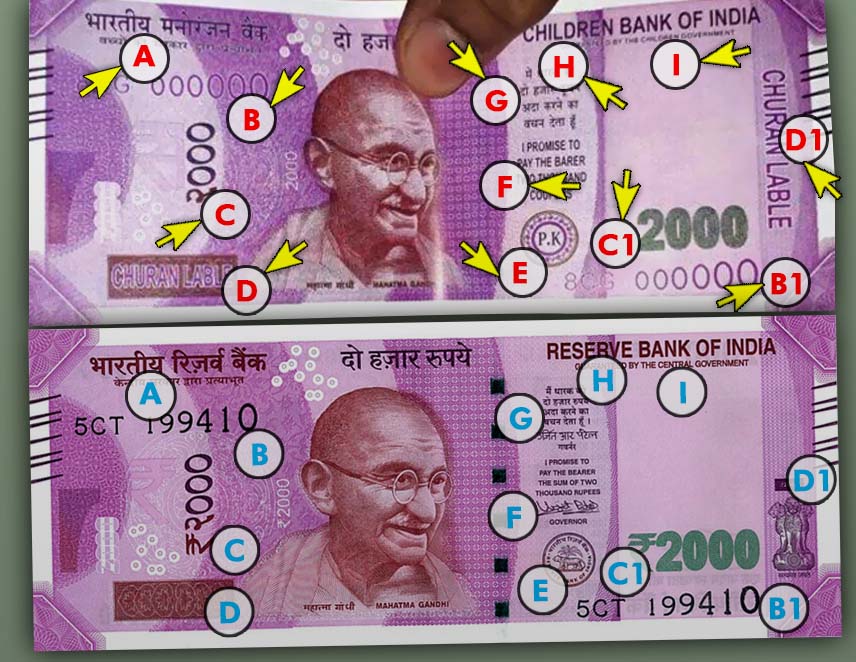 Mistakes in the fake note
a)            Bharatiya Manoranjan Bank instead of Bharatiya Reserve Bank
b)            Serial number 000000
c)            No rupee sign
d)            A churan label printed instead of leaf markings
e)            PK logo instead of seal of the RBI
f)             Coupons instead of rupees
g)            No Governor's sign
h)            Another churan label instead of Ashok Emblem
i)             Children Bank of India instead of Reserve Bank of India
j)             Guaranteed by Children Government instead of Central Government
Six design flaws in the Rs 2000 note: Watch video