Interview: 'Bengaluru only has water supply till June'
Raising a silent prayer to the rain-gods, water resources minister MB Patil told Newsable that Bengaluru only has assured water supply till June-end, "Bengaluru does not need to worry about water till June-end, we have enough water as we have planned adequately, 9 TMC of water is required in the city and that we can provide till June end."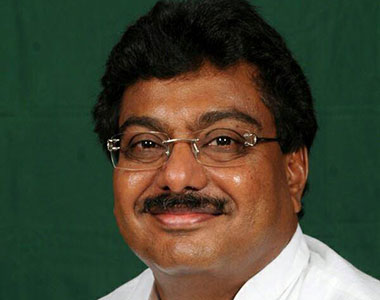 Water Resources Minister, M B Patil
"We have taken adequate steps to conserve water which due to the lack of rainfall is in great shortfall, we have preserved water and also had to take extreme steps across rural Karnataka and ask farmers not to sow their second crop so that preference is given to drinking water," Patil added.  
"If we don't see proper rains post June there could be a big crisis, Don't know what we will do?," he added
This comes at a time when alarm bells have been ringing shrill and loud, signalling a severe dry spell in the city as water levels continue to deplete at an alarming rate across Karnataka's water reservoirs. 
The latest data given by the state government shows that the storage at 13 major reservoirs in the state is just 225 trillion metric cubic feet (tmcft). At the same time last year, it was 329 tmcft. "There is 26% shortfall compared to last year and this could cause a huge drinking water crisis in the coming days,'' revenue minister V Sreenivas Prasad told the legislative assembly recently. 
Bengaluru gets its water  from the KRS reservoir in Mandya district, and the TG Halli reservoir near Magadi. The latter has dried up, and the KRS is now the only surviving  source of drinking water for the city, which is also headed towards a similar fate as a part of the dam has now gone bone-dry. As on Tuesday, the dam had 11.12 tmcft of water. Of this only 6.32 tmcft can be used, while the remaining 4.80 tmcft is dead storage, which cannot be released, said dam officials.  
Adding weight to fears of an impending dry spell, officials of the Bangalore Water Supply and Sewerage Board's (BWSSP) reportedly said, "The city needs 1.5 tmcft of water a month and we have asked KRS officials to set aside enough for us. We will not face any problem at least till the end of May."
Discussing the dire need of water rationing in the city Patil said, "Water rationing is required in the city, but that is out of our purview, its BWSSP's job."
However, the BWSSP has still not implemented water rationing, despite the fact that large swathes of the city are currently surviving on tankers that charge Rs 400 for one load of untreated water. Instead the agency has taken up an education and communication (IEC) programme to bring a behavioural change among water users.
The programme has been designed to underline the value of water and create awareness among citizens, commercial consumers and agencies for an efficient water management system in the city. With an ultimate idea to control demand for fresh water, the BWSSB has roped in the support of Tata Energy Research Institute (TERI) to chalk out details and carry out the plan.
Last Updated Mar 31, 2018, 7:03 PM IST